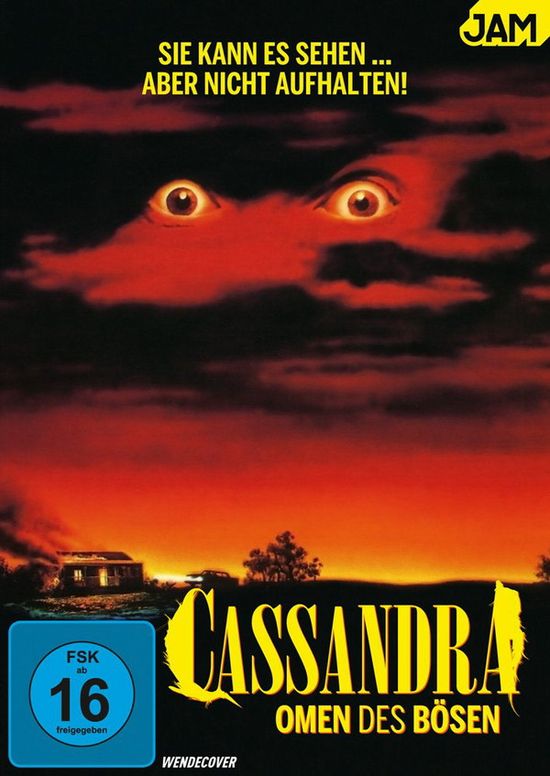 Year: 1986
Duration: 01:28:57
Directed by: Colin Eggleston
Actors: Tegan Charles, Tessa Humphries, Dylan O'Neill
Language: English
Country: Australia
Also known as: Cassandra – Omen des Todes, Kasandra
Description: Cassandra opens with footage of the title character's recurring dream in which a woman, at what is later revealed to be Cassandra's old family home, puts a shotgun in her mouth and pulls the trigger, while a creepily voiced little boy repeatedly exhorts her to "do it!"
The film deals with Cassandra's efforts to discover the truth behind this dream, involving some dark family secrets, which she has to eke out of her parents who, she gradually realises, know a lot more than they're willing to tell her.  Things take a more urgent turn when her father's lover is murdered and the unidentified killer starts stalking her mother.
As well as the obvious giallo-esque elements of the story there are also some paranormal elements thrown in.  Cassandra has a psychic link to the killer, which forces her to watch as he kills, she also has visions of a character that is central to the plot, a trait that she shares with her father.  However, despite these aspects of the story, it's fair to say this is no Australian Profondo Rosso.  That's not to say it doesn't have its moments though.
There are some decent set pieces; in particular the scene where the killer stalks Helen, Cassandra's mother, through her workshop is creepily effective. There's also a nice cliché-busting moment when Helen reaches her car, turns the ignition – and it starts first time!  The score is pretty decent, complementing the action and cranking up the tension nicely, although it does get overused a bit.
Its failings are that there is such a small cast of supplementary characters that it is easy to establish the true identity of the killer, despite the presence of a blatant red herring.  In fact the killer's identity is so obvious from an early stage that in that respect this film bears more similarity to Argento's Trauma! Some of the Special Effects tend to be on the cheesy side, even by 1980's standards, although not awful enough to distract too much from the slight, but generally well realised, story.
While not a great film, it's certainly not a bad one.  Although it never shakes off its roots as a low budget movie, it makes the most of the resources available to it.  And unlike a lot of cheaply made horror movies, it wraps up the story nicely with a decent, slightly sinister ending, despite some of the aforementioned ropey FX, and while it could have done without the obligatory "uh oh" epilogue, it is done well.
Review: To the young woman begin to be terrible visions in which she watches murder suspect a lot to do with the crimes committed by the local serial killer.
Screenshots:
Download: