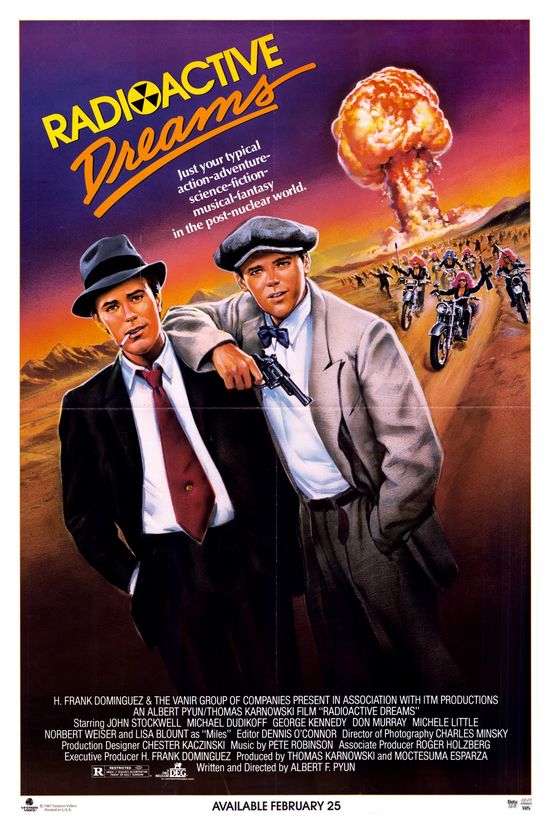 Year: 1985
Duration: 01:29:38
Directed by:  Albert Pyun
Actors:  John Stockwell, Michael Dudikoff, Michele Little 
Language: English
Country:  USA | Mexico
Also known as: Le dernier missile, Oi detectives tou mellontos, Oneira radienergeias, Radioactive Dreams, Radioaktiivisia unia, Radioaktív álmok, Sogni radioattivi, Sueños radioactivos 
Description: When nuclear war breaks out in 1996, two 4-year old boys are locked in a bomb shelter with plenty of food, water, and 1940's detective stories. 15 years later they find their way out. Of course, they want to be hard-boiled private eyes, that's all they know. Problem is, their stacks of pulp novels have left them sorely unprepared for the perils of the post-apocalyptic wasteland.
This remarkable film represents the high point of writer/director Albert F. Pyun's (Bulletface) career. He thought the world was ready for a post-nuke noir comedy/drama, he was wrong. Emotionally shattered by the harsh reviews and public rejection of his masterpiece, Pyun struck back with devastating fury, unleashing such films as Alien From LA, Brainsmasher: A Love Story, Urban Menace, and Nemesis I – IV.  For the record- Radioactive Dreams is my favorite movie.
The film is now in a different from us reality in which, in 1993, there is a nuclear war (filmed in 1985). As a result of this nuclear war on Earth dies greater part of humanity. Before the beginning of nuclear war show two people Chandler and Desh Hammett. They hide their small children Philip and Desh in a special bunker, in which is all that a person needs for a normal life – water, food and things, but slightly old (40-ies) and even entertainment – mostly detective stories.
Further action is transferred in 2010. It has been 17 years. Philip and dash matured. Nuclear mushroom already cleared, but nuclear winter in full swing, and the Earth is filled with mutants, drug addicts and cannibals. In this chaos guys become detectives, they try to find the reasons of nuclear war and overlook the trace their ancestors.
Screenshots:
Download: