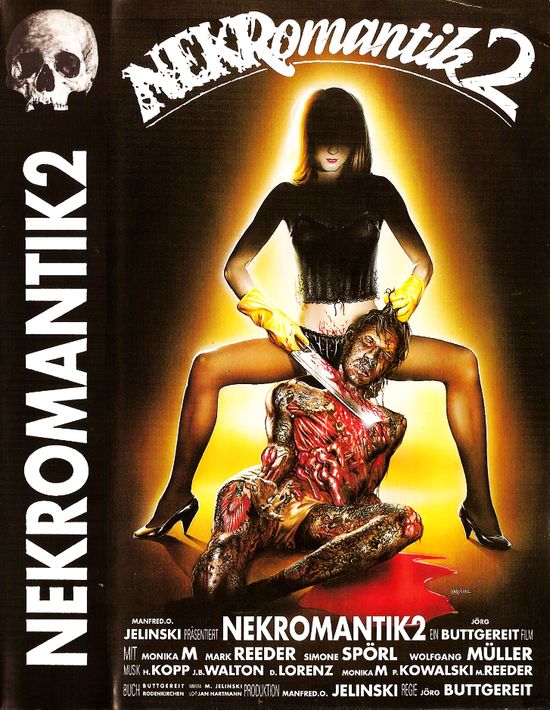 Year: 1991
Duration: 01:42:55
Directed by:  Jörg Buttgereit
Actors:  Monika M., Mark Reeder and Lena Braun
Language: German (English subs)

Country: Germany

Also known as: Nekromantik 2: Die Rückkehr der liebenden Toten
Description: Young and pretty nurse Monica duged for herself a hero of the first part – committed suicide necrophiliac Robert Shmadtke, in order to enjoy his body at home. And it would be nice if non appeared on the horizon a young man, Mark, who seemed to like Monica, with whom she began a "relationship". However, such a dual alliance could not last long, and eventually Monica had to make a choice …
Review: I watched two parts of "Nekromantik". Not because I love this movie. Not at all. I just wondered why these films were banned. Although there is already clear from the title. But still …
To tell the truth. It would be better not watch this shit. What is happening on the screen is so disgusting and despicable, that I want to….. (forgive me, censorship). And all that I have seen – absolutely real! Emotions and feelings portrayed the main character, simply shocking. A final film … There are no words.
During the filming of these have been used (!) real corpses. And yet, in part, this is a melodrama. Basically, because of the experiences of Monica, the main character. That's it, I think she set foot on another path, but …
Verdict: The movie definitely not for everyone. I would say that for single moviegoers. I won't gonna put any marks for this movie. Let the fans appreciate this.
Screenshots:
Download: