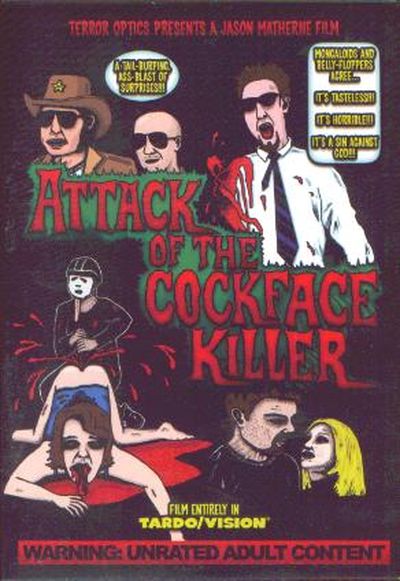 Year: 2002

Duration: 01:22:30
Directed by: Jason Matherne
Actors: Dana Kieferle, Bill Heintz and Kyle Green
Language: English
Country: USA
Also known as: 
Description: In the deep south of Louisiana, there exists a world of never-ending sex, drugs, and violence. Where the darkness of the swamps is only equaled by the darkness of a killer's mind. But this world of perpetual intoxication and frequent flatulence comes to a gut-knotting climax when the Cockface Killer surfaces from his slumber of mild-mannered sex-toy play.
SEE… the Cockface Killer's merciless revenge
FEEL… the chin-cock penetrate your mind
HEAR… the Cockface Killer say "Don't be mean!"
SMELL… the stench of decay that hangs in the air
Can this small town in the middle of the swamp possibly combat the unrelenting rage of the Cockface Killer? Only Larry Parks, local hero, dares to face the challenge. Along with a small band of freaks, misfits, and potheads, Larry launches a vigilante manhunt to rid his town of this unspeakable evil.
Witness the illogical conclusion to one of America's most highly anticipated features and decide for yourself- who can withstand the attack of the Cockface Killer?
Screenshots:
Download: