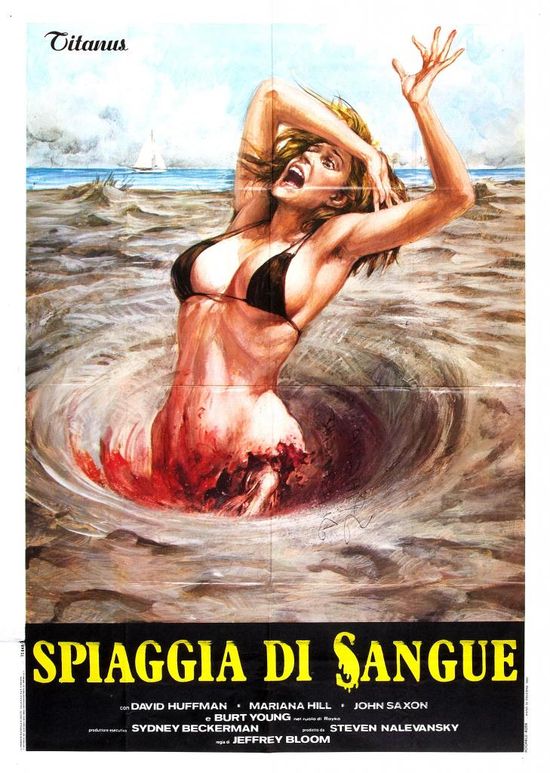 Year: 1980
Duration: 1:23:33
Directed by: Jeffrey Bloom
Actors: David Huffman, Marianna Hill, Burt Young
Language: English
Country: USA
Also known as: Spiaggia di sangue, Areia Sangrenta, La plage sanglante
Description: At a resort beach mysterious force draws people into the sand. Haste and ignorance, which shows city's government to hush up the scandal, leading to even more serious consequences. Hiding under the beach sand bloodthirsty creatures that can gobble up innocent dog or careless girl.
Review: Movies about giant worms that live under the ground, shot very little: only this, all known "Blood Beach", a pair of newly released movies, well, maybe a couple of unknown films. "Blood Beach", is a typical formulaic horror film, shot with a great sense of humor. That there are at least falling through the sand screaming people!
The film, of course, out of the template, but this does not prevent enjoy the film, of course, if you do not take them seriously. Worms themselves, by the way, has never shown in the film, there are only a very vague dark shapes on which it is impossible to form a worm, which is an added advantage, because nothing is as scary as the unknown (in this case – laugh).
Also one of the benefits are great shot beach scenes, and there are few girls in bathing suits, and those that are, do not look like anything, as in most of the films. The fact is that in the average horror movie heroine undress every second that look stupid, but here, on the beach, it's natural.
Filmed by Jeffrey Bloom, the filmmaker of Flowers in the Attic
Screenshots:
Download: