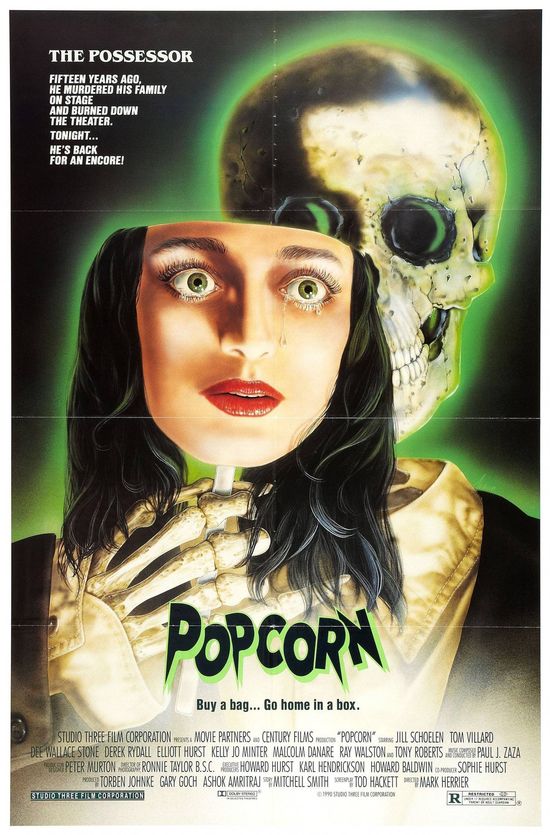 Year: 1991
Duration: 01:30:33
Directed by: Mark Herrier
Actors: Jill Schoelen, Tom Villard, Dee Wallace
Language: English
Country: USA
Also known as: Skinner, Skinner …lebend gehäutet, Cineman kummitus, Phantom of the Cinema, Phantom of the Cinema – Cineman kummitus, 
Description:Students of University's cinema faculty took it into his head to arrange at your local cinema small town night cinemarathone devoted Director William Castle, consisting of low-budget horror films from the 50s and 60s. They want to raise some money for his Department. Viewer includes three films that are shown using in the auditorium «tricks invented by Castle. Appears giant insect on a wire. In the course of going seats, equipped with electrical vibration. And the smells in the air accompanying the display of paintings. Well, who could think that the mad killer seen this movie and decided to make his own horror movie.
Review: This film Popcorn I looked a while ago, but the memory it is well entrenched.
First Director tells us about a young girl student, which together with friends wants to earn money with the help of no one desired cinema, idle already a considerable period. The girl's mother, once passing by this cinema saw strange things with signs were falling letters before her eyes (don't know what really wanted to show the audience the data spectacle).
The film Popcorn places weighs on the psyche and look really creepy, but there are more disadvantages than advantages. The plot in General absolutely not interesting, the process is a bit depressing, and the second time revise does not want. But this is just my opinion, can be a film for everybody. Despite all of the above film is impossible to put a lower score. But in my opinion not more than 6/10
Screenshots:
Download: