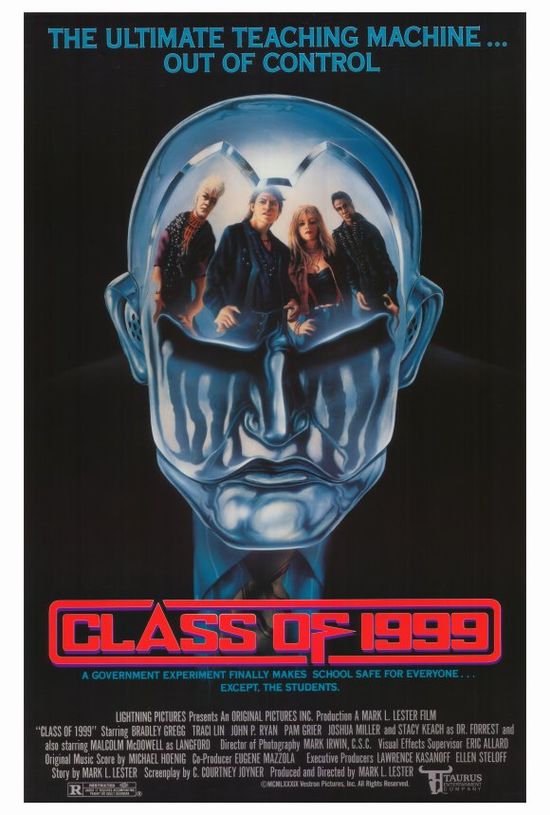 Year: 1999
Duration: 01:36:10
Directed by: Mark L. Lester
Actors: Bradley Gregg, Traci Lind, Malcolm McDowell, Stacy Keach, Patrick Kilpatrick and Pam Grier
Language: English
Country: USA
Also known as: 1999 – terrore in classe, Clase del 99, Die Klasse von 1999, Klasa 1999
Description: The year is 1999. In schools and colleges of United States – total outrage, perpetrated by youth gangs. The Department of Defense Education, desperate to bring discipline in the Graduate School of Kennedy, decided to use the services of the company "Megatek" working on defense and continued to develop different models of robots, including teachers cyborgs.
Three electronic teachers who came to school immediately get angry from communicating with their students and begin relentless deadly battle "for academic performance and attendance." This time the young thugs have unmatched opponents
Review: Impressions of the film is very often depends on what age and under what circumstances did you first saw them. Of course, now those who will discover the "Class of 1999" – it seems the old fighter "B", with no well-known actors, and the thousands who were filming in the eighties and early nineties. I watched this film shortly after the family got the first video, and for me it was one of the favorite "era tapes from the two films."
It had everything you need: big guys in leather jackets for motorcycle gangs are vying for the lead, and of course teachers are cyborgs, which the authorities to eliminate existing disturbances and subdue rebellious young. But apparently when creating robots, developers forgot about basic law of robotics: "A robot may not injure a human being," and so teachers begin to build railways in the world of school, its methods. As a result of their educational activities are kept to a simple principle – "no man, no problem." As a result, this leads to the fact that people, forgetting about their infighting (or at least put them on hold for a while), are forced to unite in the fight against the "mad" mentors.
The film's director – Mark L. Lester, the man who directed the legendary "Commando." It can be respected, if only for that. Overall, this is a good, average thriller with elements of fantasy. Of the cast, perhaps the most famous is of course – Malcolm McDowell. The leading man – Bradley Gregg, a little earlier can be seen in the remarkable "Stand By Me", and later in the series "ER."
Review #2: I looked up "Class of 1999", when I was only 9 years old. Oh, how it was a movie! This was the case when you're sitting with your mouth open and dream that "tonight never ends, and that the film lasted forever." You see the best action movie about cyborgs who just might come up with. You see zubodrobilovo, tension, adventure, you see the same as you (even older), students of the American school, with teachers who are fighting robots! They are students, too afraid, they also a lot of problems, they also do not trust adults and they are left to themselves. But, hell, as it's cool – to fight mechanized monsters in human form! It seemed that this film took a genius. What is he a cool dude! He seemed to have lived it myself. City resembling a battlefield, a school for the most difficult and not amenable to juvenile rehabilitation, causing genuine fear their cold cruelty master assassin sent to "restore order" in this godforsaken place. Child's consciousness empathize protagonists. No, they are not the dregs of society, can not you see? They are good guys, they mount each other, it just happened …
A cyborg – they were great! Three teachers and three chips built into them school subjects, they know perfectly well. But if they come here just to conduct lessons? No, they came to wait for formal occasion to "cleanse" the school of any "garbage". Wait for the first disobedience, the first being late to class, the first bold cry from the back row. See, in school for drug addicts and criminals long wait this is not necessary. No emotion, no weaknesses. Just a clear agenda and clear instructions. There is a purpose, and they must be met at all costs.
Screenshots:
Download: