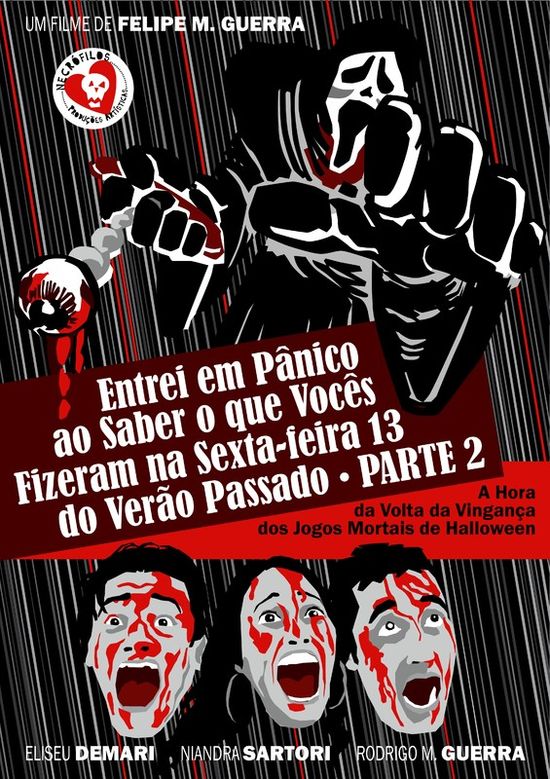 Year: 2011
Duration: 1:22:43
Directed by: Felipe M. Guerra
Actors: Eliseu Demari, Niandra Sartori, Rodrigo Guerra
Language: Portuguese
Country: Brazil
Also known as: I Scream When I Knew What You Did in Friday the 13th of Last Summer Part 2 – I Saw the Hour of the Return of the Revenge in Halloween, Vigilla Quién Llama Porque Sé lo que Hicieron el Viernes 13 del Verano Pasado Parte 2 – La Hora del Regreso de la Venganza del Juego del Miedo de Halloween
Description:
ENTREI EM PÂNICO AO SABER O QUE VOCÊS FIZERAM NA SEXTA-FEIRA 13 DO VERÃO PASSADO PARTE 2 – A HORA DA VOLTA DA VINGANÇA DOS JOGOS MORTAIS DE HALLOWEEN (in literal English, "I Scream When I Knew What You Did in Friday the 13th of Last Summer Part 2 – I Saw the Hour of the Return of the Revenge in Halloween") is – as the bizarre title already announces – a slasher spoof produced independently in Brazil in 2011, filmed in digital video and in guerrilla style with a ultra-low budget (R$ 3,000, or US$ 800!!!).
The director Felipe M. Guerra lived in a very small town in the countryside of Southern Brazil, but that doesn't stop him from producing shorts and feature films filled with gore, homemade special effects and a very peculiar sense of humor.
ENTREI EM PÂNICO… PARTE 2 is the sequel to one of his best known films: the original was shot on VHS in 2001 and quickly became a cult movie in Brazil, with reports on prime time Brazilian TV and in several magazines about cinema. The killer in the first one was a guy named Geison (Portuguese form of Jason… duh!), seeking revenge for the bullying suffered by his schoolmates. He kills a lot of them on the prom night, using the same mask of the killer of "Scream". Now, the killer is back – and the stupid jokes too!
Screenshots
Download
Entrei em Pânico ao Saber o que Vocês Fizeram na Sexta-feira 13 do Verão Passado Parte 2 – A Hora da Volta da Vingança dos Jogos Mortais de Halloween 2011