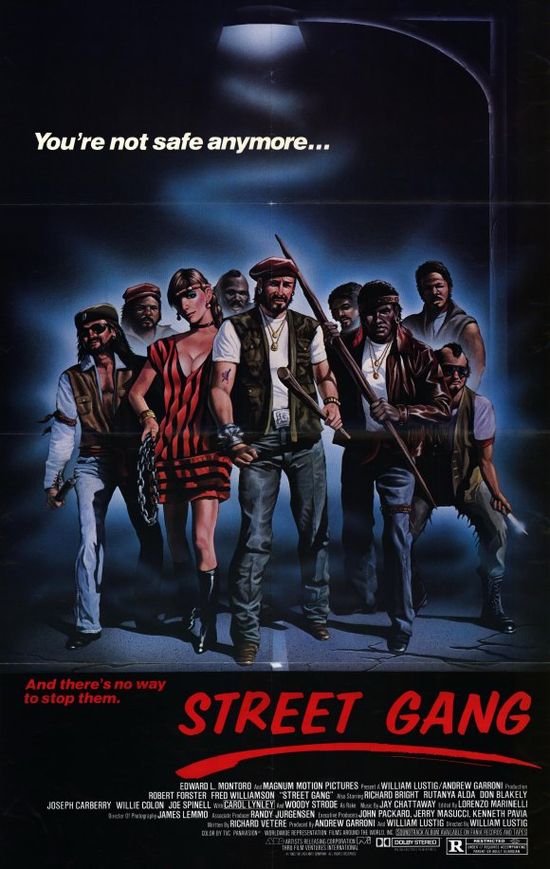 Year: 1983
Duration: 01:29:27
Directed by: William Lustig
Actors: Robert Forster, Fred Williamson, Richard Bright, Rutanya Alda
Language: English
Country: USA
Also known as: Street Gang, Streetfighters, Os Vigilantes
Description: After the attack on his wife and killing pf the son, a New York worker Eddie Marino joins a secret group of illegal punitives, consisting of former police officers. They pursue and kill the criminals who have repeatedly got away from justice, because of the leniency of the court.
Review: "Vigilante" I deeply loved by William Lustig's true artistic legacy and basically show age-old story: there lived a welder Eddie. Once, when he was at work, his wife managed to potsapatsya at a gas station with a bunch of pals who do not easily left – came to their house, beat property crippled wife and killed her son. Local authorities have long been purchased, and therefore gets no jail gang leader, and the Eddie, furious rushing to judge. Upon his release, Ed understands that we can not, and seeks the help of friends – ex-cops, who made his band of vengeance and then only if it is a small bandyugan, with large bumps and the same guys does not stand on ceremony – bang in the morgue.
After my surprising success with Maniac (inspired by the giallos of Dario Argento, Lucio Fulci, and Mario Bava) in 1981, I wanted my next project to be an American version of the great spaghetti revenge thrillers. Vigilante premiered at the 1982 Cannes Film Festival and was released in America in January 1983. I'm proud to say that it played to cheering houses in Times Square for five months, at one time sharing a memorable double bill with Steven Spielberg's E.T.. Vigilante truly delivered on my original intent – all over the world. Ironically, Street Law, a terrific Italian revenge thriller starring Franco Nero and directed by Enzo G. Castellar, was retitled Vigilante II for it's European video release. My homage to the genre had come full circle.
Screenshots:
Download: