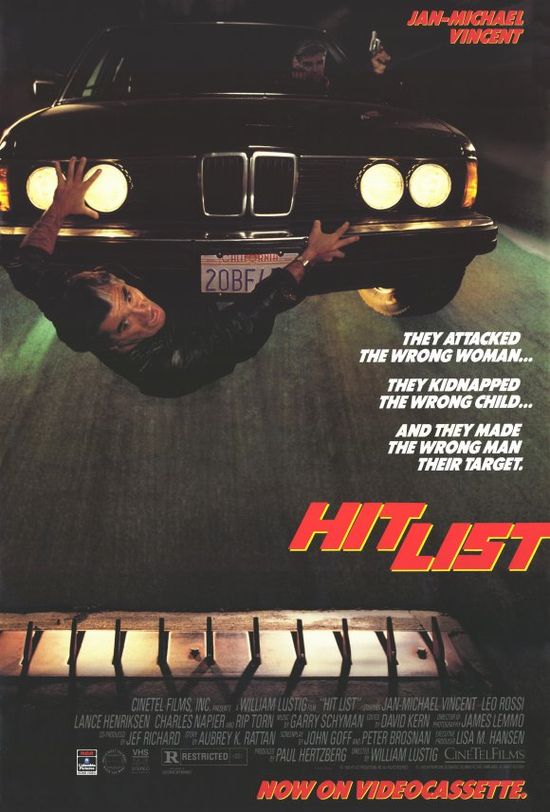 Year: 1989
Duration: 01:26:00
Directed by: William Listiq
Actors:  Jan-Michael Vincent, Leo Rossi, Lance Henriksen
Language: English
Country: USA
Also known as: Hell to pay
Description: The Hit List is a pretty badass piece of cinema as you get all kinds of elements combining into a perfect storm.  Crime boss Rip Torn wants to ensure untrustworthy wiseguy Leo Rossi won't snitch during a trial so he arranges to have his kid kidnapped.  Hiring hardcase Lance Henriksen, who is equal parts Terminator and Solid Snake, he gloats to Rossi that he has to do as he's told.  Unfortunately, Lance nabs the kid of Jan-Michael Vincent by mistake and all hell ensues.  Inept and dirty cops, gunplay, fisticuffs, car chases, and all kinds of havoc is unleashed.
Review: A former soldier Jack Collins mistakenly stole the child instead of the neighbor boy , the son of gangster Frank DeSalvo , who wants revenge on another mafia group headed by Luc cruel Vic . Collins, find out at this location DeSalvo mafia enters into the fight for the return of his son .
We can say that this is a thousandth variation on a related subject , which is not much different from their "twins" . In the sixth director William Lustig's work ( it is very early – just in '22 ! – Started their own activities in the movie as the director ) should only consider the original first scene of the cemetery. Also, it may seem a curious change in the relationship of Jack and Frank , who turned out in the first enemies companions in misfortune , and then all became friends .
Screenshots:
Download: