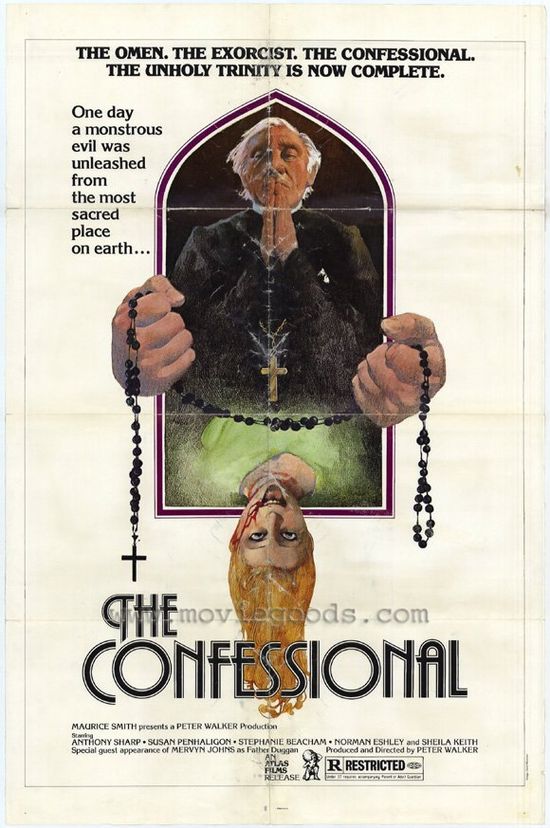 Year: 1976
Duration: 01:39:48
Directed by:  Pete Walker
Actors: Anthony Sharp, Susan Penhaligon, Stephanie Beacham
Language: English
Country: UK
Also known as: The Confessional, House of Mortal Sin, Mortelles confessions, The Confessional Murders, To spiti me ta thanasima amartimata, La casa del peccato mortale, The Confessional: House of Mortal Sin
Description: The case of miss Jane Walsh go badly. And, of course, because of the vile boyfriend. Despite the fact that she makes abortion, handsome Terry throws poor thing. In despair she comes into the Church to ask an old friend recently who became a priest, friendly advise. But faced with another, very strange priest, father Meldrum. Quite accidentally coming to him for confession, Jane compelled to tell about her sex life, not suspecting, that under the guise of friendly and experienced priest hides the real maniac, from which, as you know, not get off so easily…
Review: Xavier Meldrum, like most priests, has great power over his flock. However, no one even realizes that Xavier is not so simple, and it is not only the world of faith. Miss Jane Walsh had to see this personally and strongly regret the chance meeting with Meldrum.
The film "House of mortal sin" in 1975 is one of the most interesting works of British horrormeykera Pete Walker (Flesh and Blood Show). "Confessional" – is, at first glance, a very traditional and chamber story about a serial killer, but in the film masterfully addressed themes of human sinfulness and dualistic. Try on the role of God, a person who does not have absolutely no right to it, starts to degrade and dehumanize, finding the darkness in his soul.
Anthony Sharp coped magnificently with the role of the father Meldrum, creating inconsistent and volumetric image. Solely on his acting skills kept the film's plot, for the secondary characters, played by Sheila Keith and Susan Penhaligon, filled with obscenities.
Also worked on the movie directed by a constant operator Peter Jessop, create tension and academically built video and composer Stanley Myers, who wrote a vivid soundtrack.
I recommend this horror film, an unknown wide audience, all fans of classic horror films and thrash.
Screenshots:
Download: