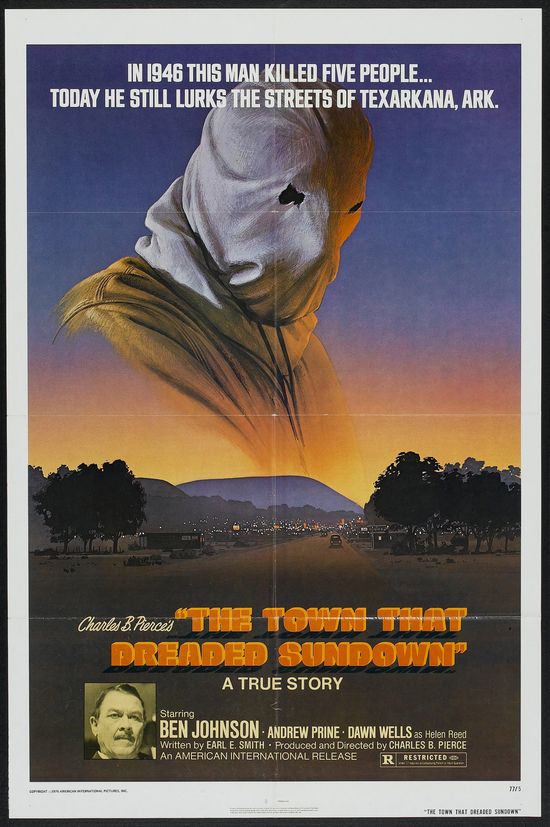 Year: 1976
Duration: 01:27:10
Directed by: Charles B. Pierce
Actors: Ben Johnson, Andrew Prine, Dawn Wells, Jimmy Clem and Jim Citty
Language: English
Country: USA
Also known as: Byen som fryktet mørket, Der Umleger, Ektelestis dihos prosopo, Kaupunki pelon vallassa, La città che aveva paura, Phantomkiller
Description:
"The Town That Dreaded Sundown" – a film by Charles B. Pierce . The film consists of a cross between a horror and a documentary – we are shown a film about a maniac Phantom acts and at the same time talk about what happened. The idea , be honest, genuine . Yes, and the kind of Phantom pleasing to the eye .
Near the town were found wounded man and woman . They said that they were attacked by a masked man . The town was shocked by such a display of aggression , people were afraid it happen again . Indeed, twenty-one days later, were found already dead guy and a girl.
The film is perfect. I knew it from the very first frame . The operator deserves an award for such a survey , and the actors , especially for the role of the Phantom on several at once . The whole movie I was in suspense , afraid to even move , and after watching sat in suspense . Excellent film .
"The Town That Dreaded Sundown" – a great movie that everyone must see movie buff . Excellent, a frightening horror film about never caught maniac can scare anyone. Be sure to see this film , I personally do it again and again reconsider .
Screenshots:
Download: