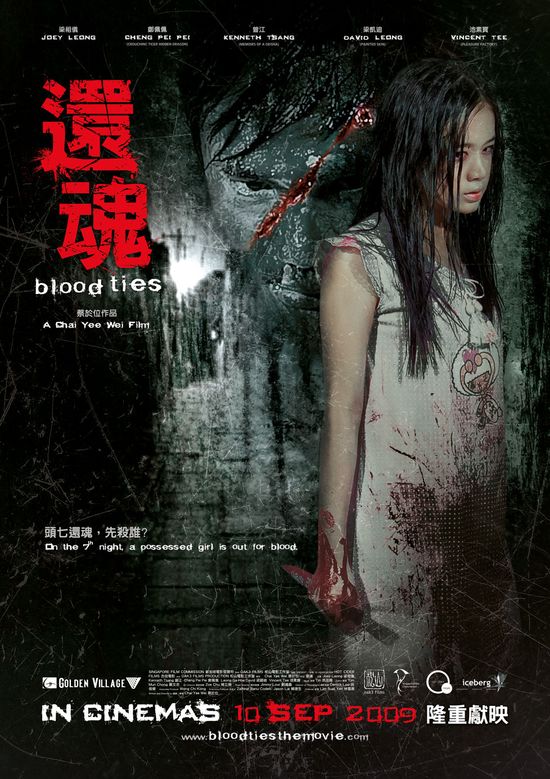 Year: 2009
Duration: 01:36:04
Directed by: Yee-Wei Chai
Actors: Pei-pei Cheng, David Leong, Joey Leong
Language: Mandarin

Country: Singapore
Also known as: Huan hun
Description of Blood Ties movie: So thirteen Qin played Joey Leong , witnesses the brutal murder of his brother and his wife. On the seventh day the spirit inhabits the body of his brother and sisters to revenge . And his terrible revenge , because without blood spilled all stakeholders normally rest in peace to him quite well, impossible.
However, apart from any horror movie and there is quite a story with good quality twisted detective intrigue , that in itself is interesting. And unusual for conventional horror movies with little girls .
Overall Qin quite a game reminiscent of Alice from McGee ( who played – he will understand ) . A kind of avenger in her nightgown , stained with blood. Girl herself also plays very well – and given the fact that she gave a substantial portion of screen time (in comparison with the other actors ) , it is enough to open up on all sides, both positive and negative . And here are some adult actors , especially playing the roles of gangsters , so obviously outperform that just amazed .
As a result – quite a watchable , if you certainly digest little girls with knives , do not hesitate to wield them right and left. It also sharply distinguishes the film – not everyone dares to make a film with so young killer. Let him inside and sitting adult. According to the scenario .
Screenshots:
Download: