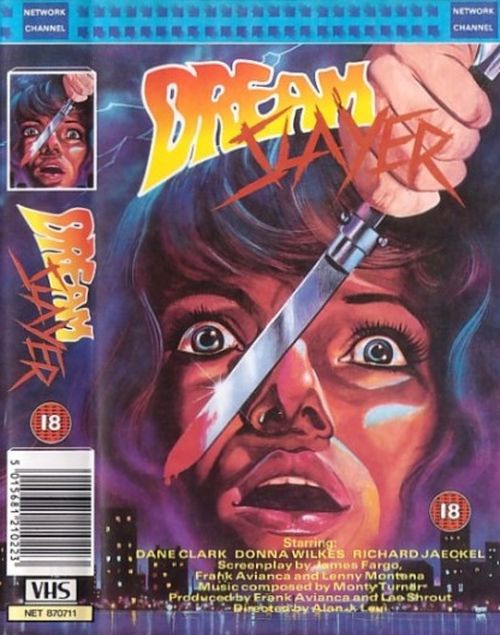 Year: 1982
Duration: 01:26:10
Directed by: Alan J. Levi
Actors: Donna Wilkes, Richard Jaeckel, Antoinette Bower
Language: English
Country: USA
Also known as: Dream Slayer
Description: Paul Foley was just a boy when he witnessed his father murdering his mother and her lover, and then turn the gun on himself.
Now Paul Foley turns to murder himself to escape the asylum he has spent most of his years. As he runs across the country, a teenage girl starts having visions of Paul killing people with an axe. But no one believes her when she tries to tell what she believes to be true crimes.
The trouble is she will cross paths with Foley as he buries a victim and risks becoming one of her own visions.
 Eh. Not as great as it sounds, and it's sort of a standard slasher film. However, I should add this film has Frankie Avalon as a psychotic blood killer, so it's worth a look. I saw it on the requests list, and I remembered it was on one of those multi pack Horror packs I had. So, per request, here's a kind of bizarre film with Frankie Avalon as a killer.
"Blood Song" ( although it would be rather "Bloody Melody" ) – is the forgotten slasher , which distinguishes from many twins zealous approach to creation . That however does not show the tape to the rank even slightly famous .
Played a very simple plot and wooden clamped actors, but actually picture deserves much more attention than it might seem at first glance. And it's not clever directing ( as in many similar films ) or, for example , the brilliant soundtrack ( the movie for the soul apart from a couple of good tunes but one song except that ordinary elektronschina ) or something else . Special effects are good here , I mean makeup. Lots of blood, honestly freak people . Action scenes quite dynamic, the course of action even drown loader.
Screenshots:
Download: