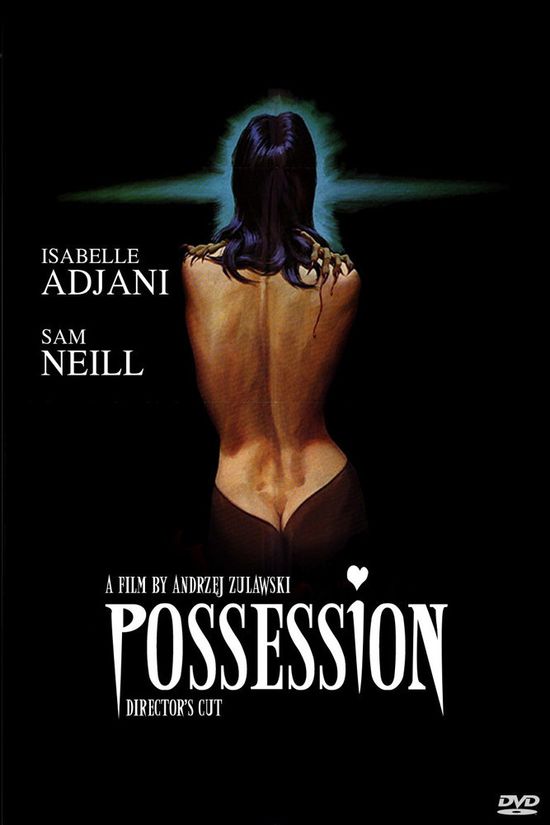 Year: 1981
Duration: 02:03:35
Directed by:  Andrzej Zulawski
Actors: Isabelle Adjani, Sam Neill and Margit Carstensen
Language: English
Country: France
Also known as: Possessão; La posesión; Opetanie; The Night the Screaming Stops; Una mujer poseída
Description: This movie is like David Lynch meets David Cronenberg. A controversial epic of obsessive love and sexual psychosis, Isabelle Adjani and Sam Neill star as a married couple torn by emotional instability and carnal infidelity. As their madness grows, their world becomes a nightmare of savage murder… and climaxes in a monstrous manifestation of sexual evil.  Written and directed by acclaimed international director Andrzej Zulawski and featuring shocking creature effects by Carlo Rambaldi, Possession is an experience like no other; part masterful art film, part bizarre horror thriller.

I've seen the full version of Andrzej Zulawski's mad metaphorical horror film exactly once, several years ago. I believe it was one of the first films I both fully admired and fully hated — I admire the ideas, the passion, the obvious personal import and the sheer fucking stones on Zulawski, but none of that stopped the film from coming off to my eyes as shrill, ridiculously mannered and thoroughly incoherent. It is, for better and worse, a film made in a state of towering rage, the kind of rage where one is reduced to splutters and wild gesticulation in lieu of normal interaction.
Having now seen the brutally streamlined American version, I may be ready to give the full course another shot. This cut sacrifices artistry for a quick and dirty attempt to suss out what's going on inside Zulawski's gargantuan hollering meander (while emphasizing the exploitable elements, of course). Here, the disintegration of the marriage between government employee Mark (Sam Neill) and housewife Anna (Isabelle Adjani) due to Anna's sexual obsession with her unexplained demonic spawn gets primary emphasis over any other manner of larger social critique Zulawski may have been (read: probably was) attempting, and maybe the film's better for it. Lord knows the full cut could use a little focus, a little discipline. But then, I could be remembering it wrong, because things that didn't do much for me the first time around hit me in a peculiar way even through the haze of VHS — Adjani entangled with her otherwordly lover is a strking image, and Neill is far more accomplished here than I remember him being. POSSESSION still has problems even in this Cliff Note's version; most notable, the performances are highly variable, with Adjani trying her best but coming off somewhat forced in her mania and the actor playing Heinrich giving one of the worst performances I've ever seen in a so-called legitimate film.
But, I also see something I didn't see before in this film. I see something worth revisiting, and I now feel prepared. Here I come, Andrzej. Strap one on and let's wrestle.
Screenshots:
Download: