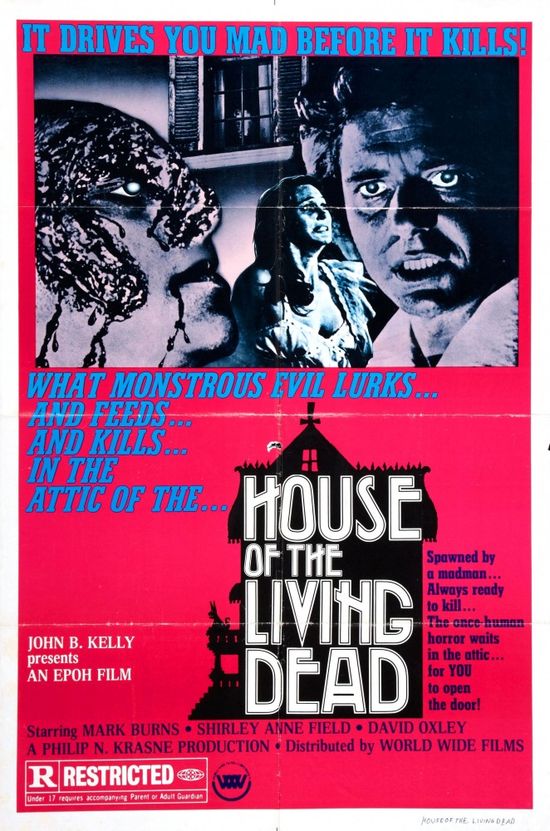 Year: 1974
Duration: 01:27:20
Directed by: Ray Austin
Actors: Mark Burns, Shirley Anne Field, David Oxley
Language: English
Country: South Africa

Also known as: Curse of the Dead | Doctor Maniac | Kill, Baby, Kill | Skaduwees Oor Brugplaas
Description: If you ever wondered why we didn't see more South African horror movies in the trendy seventies, welp, this little gem answers that question.  Despite its title, "House of the Living Dead" does not have any zombies or vampires or any other living dead things, unless you consider a bonkers deformed mad scientist/doctor brother who hides out in the attic of this creepy gothic house.
On the other hand, you DO get a cursed family, some mad experiments involving the sucking out of souls and bottling them up in foggy bell jars, some voodoo drums, a witchy character cooing over a wax doll, and a creepy guy in a hooded robe playing demented organ music.  In the night.  In the dark.  And oh yeah, one very VERY long screaming fit with lots of breakage.
Despite its drawbacks, the movie has something of a low-budget Hammer Horror feel to it, just not as well done.  The DVD print is a bit muzzy, as though it were transferred from a VHS tape that had gone through the wash one too many times.  To say the colors are understated is an understatement.  In other words, it's  fuzzy but watchable, and it has a very effective score that enhances the mood of the film (a pleasant surprise).
Review:
Screenshots:
Download: