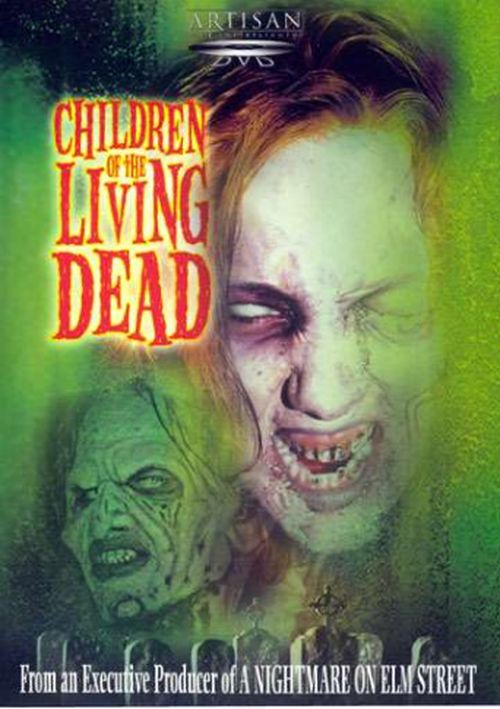 Year: 2001
Duration: 01:29:53
Directed by: Tor Ramsey
Actors: Tom Savini, Damien Luvara, Jamie McCoy and Sam Nicotero
Language: English
Country: USA
Also known as: 
Description: In the vicinity of a small town in American heartland raging an epidemic of zombies – all the dead bodies got up and moved by a thirst for blood, went in search of the living beings. Through the efforts of the local Resistance Army epidemic is stopped, but survived some Abbot Hayes, who during his lifetime was a real bastard and after his death he became absolutely invulnerable. 14 years later, he turns into zombies a group of local children, and the epidemic starts again .. Starring Tom Savini, who also played in Forest of the Damned

Review: The film "Children of the Living Dead," I am not a bad or a good movie, a scary or nothing to worry about. He is average in my opinion. Here there are the living dead, especially a lot of them in the beginning, a little blood, a couple of unpleasant moments, and, finally, a certain Abbott Hayes, whom the film tells a little story.
At the very beginning we see hordes of zombies come in a wide field, in order to escape and attack their victims. People gather in groups, fly in helicopters come in cars and arrange in a real battle field. Tom Savini, who also takes part in this battle, shows what he can do. For example, how well he is able to own a gun is aptly able to shoot zombies from a distance, and more.
Then he, along with the sheriff, sent to a home where children are trapped and release them into the wild. It turns out that wanders somewhere near Abbott Hayes, who was an urgent need to shoot. Later searches of this mysterious type Savini becomes the victim and to not turn into a zombie, asks him to shoot.
And then – went a different story 14 years later. It is less interesting, but still it contains a zombie, and then how to use them to straighten out people, especially at the end.  Special effects in the film are made as a not very scary. Probably in a hurry and just nalepili on zombie makeup. Acting almost there, except for Tom Savini, although it is very small but very memorable role.  Music evokes the excitement and fear of light.  Bottom line: A film about zombies, which I do not think neither good nor bad. All those who love these films can see it.
Review #2: "Children of the Living Dead" has its name like the name of a classic movie series of films about the living dead shows that the film is somehow with that same ruler will be connected.
And he really is related, but not directly, that is, the action taking place on the screen does not overlap with the classics, even their parallel universes. Contact movie in indirect borrowing of almost all the ideas of classics have received some development, for better or for worse you decide if you want to see this creation. I do not know whether you will come to a head if you do not belong to the admirers of the zombie horror movie viewing ideas which are secondary as they have not been implemented, would you have watched a lot of movies, and you have nothing to take our time. If there is a fan of one, but a good reason to ensure that you start watching, but it separately below.
There are also borrowing more than one link connecting the film and classical music, this man Tom Savini. He is present as an actor and as a master of special effects make-up on, what it's recognized talent manifests itself the most. If you're a fan of films about the undead you need to know the shape and perhaps because of her wish to evaluate the film. Let the story will sometimes be banal zombie moves made by design Savini, fans of the genre will appreciate the film for its attention.
To give an idea in the recall will address ideas and clichés (but not in great detail, they are not worth) and work on them Savini trying to convey my experience to those who want or on what occasion to see this.
The Universe movie to a certain point repeats the universe classics – Night of the Living Dead. Here you specify one and the same possible cause of the epidemic. Under the description of the background here are from Venus space probe also returns, but it does not fall into the sea, to bring its radiation worldwide pandemic of the living dead, and near the small town of arranging a local epidemic and rising from their graves just one cemetery.
The plot of the film is divided into two parts, telling of two local disasters.
Interestingly, the date mentioned in the films contain references to the dates of famous movies about the living dead the very first – "Night of the Living Dead" (1968) and also known parody "The Return of the Living Dead" (1986).
Screenshots:
Download: