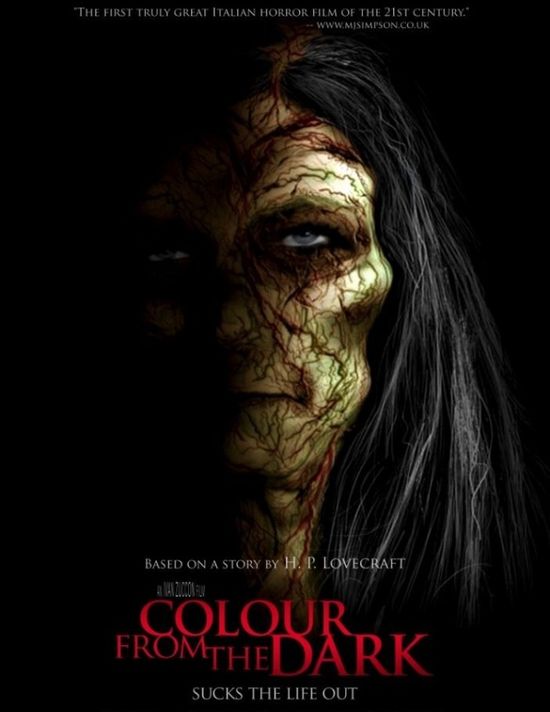 Year: 2008
Duration: 01:31:27
Directed by:  Ivan Zuccon
Actors: Debbie Rochon, Michael Segal, Marysia Kay
Language: English
Country: Italy

Also known as:      H.P. Lovecrafts Saat des Bösen
Description: One day, Alice dropped the bucket into the well, and Pietro, pulling it accidentally frees something from the womb of the Earth.
One of the most chilling films I've seen this year!!! Pietro and Lucia live on an isolated farm with Alice, Lucia's younger sister. Poor farmers, they live tilling the soil. Pietro is a good worker and a strong man who, unlike his three brothers, is not at war because of a deformed knee. Lucia is a beautiful and reserved woman dedicated to her family. Their life is peaceful and good, in spite of the hard work. One day, while drawing water from the well, Pietro and Alice accidentally free something from Earth's womb. A strange and alien color flashes underwater, at the well's bottom, then disappears. From that moment on, inexplicable events start happening all around the farm, and by night the surrounding vegetation glitters with a sinister glow. The color soon takes hold of the whole farm, and dwelling inside Pietro and his family's minds, it brings them into its sick world of pain, blood and death.
Hellava Movie! – From the surreal opening where Alice dreams of being called to the well outside and drops her doll…to her blood soaked nightmares, Colour from he Dark delivers the the goods. Eerie, haunting, nightmarish ……these are the words I'd use to describe this film. Another Lovecraft inspired film, though this time it's one to be proud of. We find ourselves in the old country where they farm, harvest and pull water from the well as a daily way of life. The Germans still roam the area in search of Jews to capture or kill and our couple Pietro and Lucia and Lucia make due while watching her mute sister Alice. Their peaceful existent of farm-life living is drastically changed when Alice drops her water bucket into the well. When Pietro attempts to dislodge it from the bottom, he cracks open a underground channel that releases a colorful blue light with reeking odors. Still they collect the daily drinking water and proceed like nothing happened. Not too long after that, they witness miraculous changes that heal; Pietro's leg and witness Alice speaking again. All seems fine until the evil blue light overtakes the family one by one.
Possession sets in upon Lucia as she transforms both mentally and physically. The nightmare increases and demons find there way into the once peaceful household. Even with its elegance, the blue light emanates a harrowing dark chant of sorts and unleashes hell on to the family and neighbors. Directed by Ivan Zuccon Studio Interzona presents a great exploration of fear and fright. Much in the same way "The Exorcism of Emily Rose" progressed into fearful territory, demonic Colour from the Dark does so with ease and style. Fantastic performance are presented by Horror queen Debbie Rochon, Michael Segal and Marysia Kay. The film has a very classic feel that seems influenced by the Italian masters and yet also can hang with the mainstream frights just as well. With original music by Marco Werba and sound design that works extremely well to accent the impact moments we have all the makings of a good old frightful experience. Special mention also goes out to FX by Massimo Storari who uses them sparingly but effectively.
Ivan has a great feel for using the right angles and perspectives to enhance his story and showing the audience what they need to see when it needs to be seen. This film actually surprised me as I watched it late at night not knowing really too much about it except that it was getting well received. Though I always say that any film that can creep me out is a dead on winner that has perfected the art of cinematic fear. I highly recommend this as a great "put the fear of the devil into you ya" type of film. With its very effective sound design to enhance the nightmarish delivery, it will send more than one chill down your spine.
Screenshots
Download