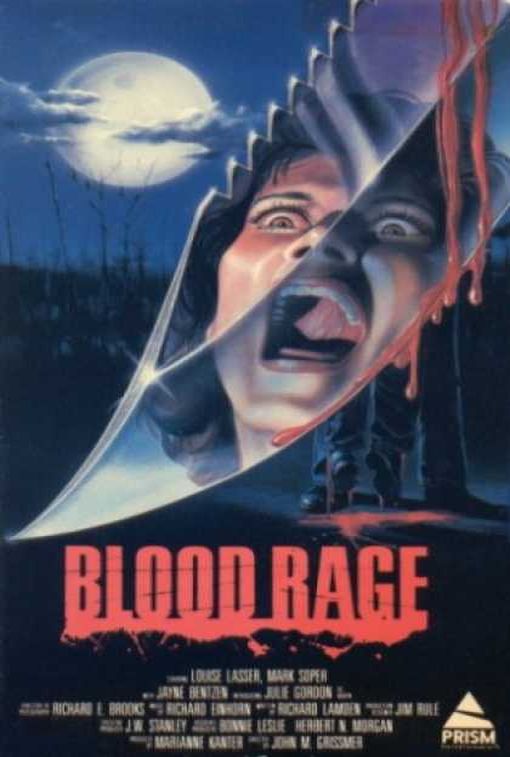 Year: 1987
Duration: 01:20:04
Directed by:  John Grissmer
Actors:  Louise Lasser, Mark Soper, Marianne Kanter
Language: English
Country: USA
Also known as:Nightmare at Shadow Woods
Description: Blood Rage was released on DVD as Nightmare at Shadow Woods and it looks really good; they even extended the diving board sex scene.
However, the bad news is the DVD cut all extreme gore and every kill is shortened to a quick flash. And this is the make-up guy (Ed French) who's resume includes Sleepaway Camp and Terminator 2. We are talking some over-the-top shit that was cut out.
Just another sad story of a GREAT movie not yet presented properly.
The good news is this version is UNCUT; a rip from the PRISM VHS. It's doesn't look near as good as the DVD, but this movie needs to be seen with the UNCUT footage.
I believe this is a top 5 slasher. It's weird, cheesy, bizarre, bloody and has a very bleak ending.
I'm not going to spoil the UNCUT footage, so I'll just show just one screenshot that was cut. Enjoy!!!
Review: A young boy kills a stranger at a drive in theater parking lot, then blames his twin. Ten years later, around Thanksgiving, a series of gruesome murders occur at Shadow Woods apartments, where one of the boys and his mother lives.
This is the Legacy DVD, its alternate title is "Blood Rage".
While the picture quality is better than the VHS, there are a couple things to consider:
-This contains extra dialogue not seen in the Prism VHS of "Blood Rage"
-A scene near the beginning at the mental institute is cut from the DVD but is on the VHS
-This has the death scenes and some gore, but they are all cut compared to the Prism "Blood Rage" VHS
Screenshots:
Download: