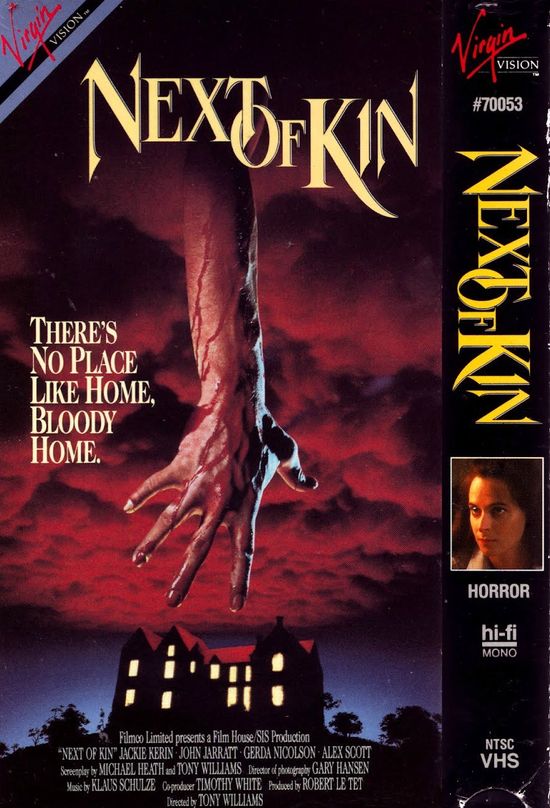 Year: 1982
Duration: 01:25:27
Directed by: Tony Williams

Actors: Jacki Kerin , John Jarratt , Alex Scott

Language: English
Country: Australia , New Zealand

Also known as: Hell House , Montclare – Erbe des Grauens , Montclare: Rendez-vous de l'horreur , Next of Kin , Ondskapens hus , Paluu menneeseen
Description: A rare film full of suspense and paranoia. The music and cinematography will take you back to the Golden Age of the 1980's when films had real heart and emotion. In a rest home for the elderly, the daughter reads her mother's diary. Soon events that are mentioned in the diary of mother begin to occur and with her daughter.
Still, it is amazing how the Australian horror movie differs from the American ribbon of the same genre. Film «Next of Kin» begins as a normal Thriller, then tension rising appears mystic line, and the movie becomes more terrible cruel, gradually moving in a horror film appears on the screen all the more blood, and…
Idyll: a woman sits collecting giant pyramid of cubes of sugar, next to her boy. She puts the last piece, but it lacks one more. The boy gives her the sugar bowl. A woman puts it on top of your pyramid, and…
The pyramid collapses, as if human life. In shop enters the machine, having plowed through one of the walls. Idyll long forgotten – woman shoots in the car, there was an explosion, the driver dies… And in the next shot, a woman with a boy rides in the car on the highway, and it seems that all the troubles are behind, and in front of the bright future.
Dark film was slightly blurred «happy end» «om, but the rest of it is superior to most American horror films. The line between Thriller and horror film was so shaky that one cannot understand where it goes. Bloody scenes were shot very natural and beautiful (Yes, it happens). Actors play like a Thriller, not a horror movie. And dynamic music plays almost the whole movie. It creates the necessary voltage, emphasizes the dark atmosphere and simultaneously frightening.
When watching this film I noticed that he is not in us. America can not to really intense horror movies, their lot is stupid films about maniac and monsters. And here in Australia, a different picture is far from Hollywood masters create true masterpieces.
Screenshots:
Download: