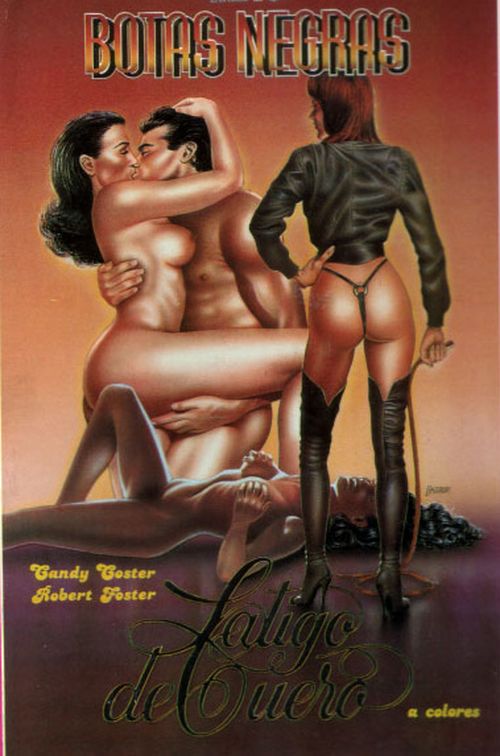 Year: 1983
Duration: 01:43:10
Directed by:  Jesús Franco
Actors:  Lina Romay, Antonio Mayans, Asunción Calero
Language: Spanish
Country: Spain
Also known as: Botas negras, látigo de cuero, Black Boots, Whip of Leather

Description:Private eye Al Pereira was one of Jess Franco's recurring characters – in fact, maybe his only recurring hero. A genuine noir type who always accepts cases he should have let pass, who always loses his heart to the wrong floozy fatales, who usually comes out of a case worse than he went in, he was introduced in 1962's "077 Operacion Jamaique" with Conrado San Martin playing the part. Then Eddie Constantine took Al around the block in 1965's "Attack of the Robots," followed by Howard Vernon in 1972's "Les Ebranlées" and Olivier Mathot in 1975's "Midnight Party." After two test drives as a similar character named Al Crosby in "La chica de las bragas transparentes" (1981) and "La noche de los sexos abiertos" (1983), Antonio Mayans resurrected the role and became its definitive interpreter in this movie. It was followed by four other adventures – the last being Franco's very last film, the recently released "Al Pereira vs. the Alligator Ladies" (2013).
The story is simple enough to follow: Al Pereira is hired by Lina (Candy Coster, who is Lina Romay in a blonde wig, so Lina playing Candy playing Lina), the wife of a wealthy man, to recover some compromising photos. She has sex with him by way of a retainer. In the course of his investigation, Al is obliged to commit a couple of murders… and he's left holding the bag when Lina turns out not to be what she seems to be.
Audient is delighted to bring you a FULL DVD rip of this Franco thriller direct from its original Million Dollar Video Corporation VHS. Hardcore porn was not permitted in Spain until 1983 and Franco is credited with initiating that trend with his movie "Lilian la virgen pervertida." This movie was shot earlier and is generally thought to be softcore, but an actual viewing establishes that it contains a single hardcore shot. It's not an explicit penetration shot, but a closeup of Lina's ass grinding away with Mayans' balls straining against her – lit to eliminate any graphic view of the penetration. Since this movie was released in 1983, it's possible that Franco did what he did with "Lilian" – which was to shoot a modest amount of additional hardcore footage to give the feature that much more of a commercial edge. Since there is a margin for error either way, I am going to err on the safe side and label this as XXX.
Screenshots:
Download: