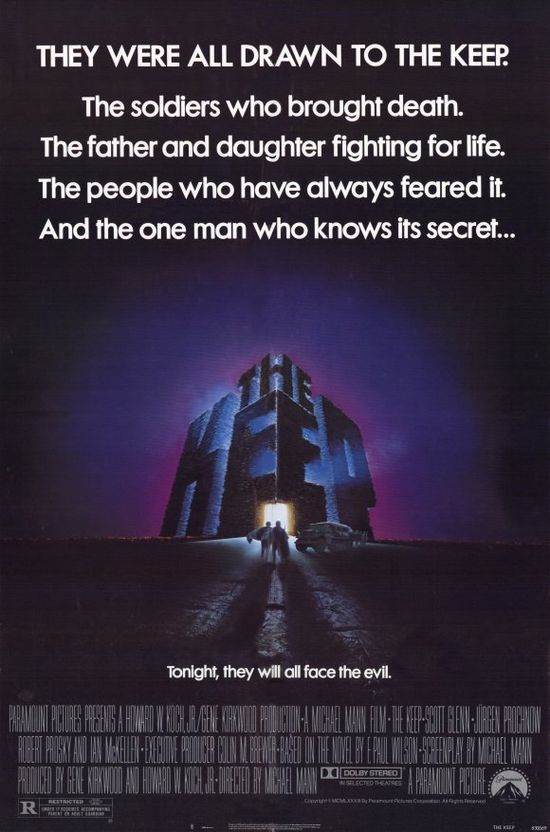 Year: 1983
Duration: 01:31:47
Directed by: Michael Mann

Actors: Scott Glen, Ian McKellen, Alberta Watson

Language: English
Country: USA
Also known as:A Fortaleza Infernal, Satans borg, Die unheimliche Macht, La fortezza, El torreón
Description: The action takes place in the Carpathians in 1941, during the times of the triumph of the third Reich. A small detachment of the Wehrmacht under the command of captain Vermann arrives in lost in a misty mountains Romanian village in order to take a position at a strategically important pass. Soldiers are in a huge fortress, the infamous.
Review:  Classical extremely topical mystics of the early 80 's, according to the underrated film. Although the events of the film take place in the historical background of early 40 's, the "The Keep" delightfully captures the spirit of the '80s.
What evidence is now very talented direction of the famous (but then completely unknown ) Michael Mann , the presence of young and such great actors like Jurgen Prochnow , Gabriel Byrne , and even the " Gandalf the Grey and White", he " Magneto ", Sir Ian Mc Kellen , special effects for the imagination of his time . Just looks great and the daemon (that's really tried to make-up specialists ) its image , after more than a decade borrow in such cult films as " Wishmaster " and " Jeepers Creepers ."
All lovers of mysticism 80 must watch .
Screenshots:
Download: