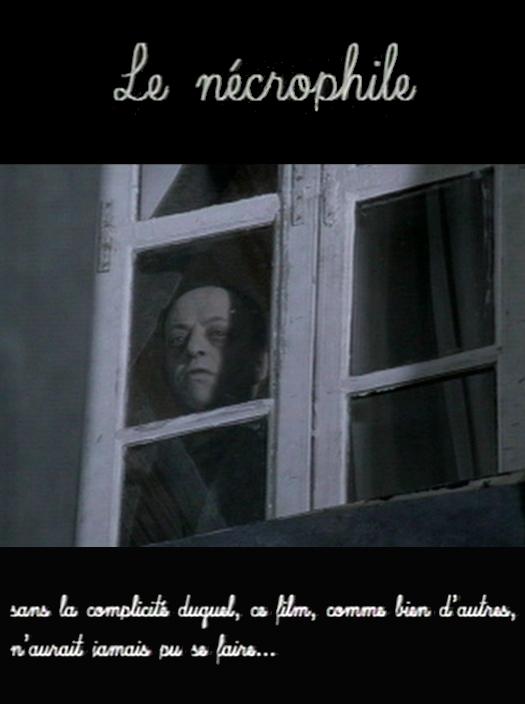 Year:2004
Duration:00:36:44
Directed by: Philippe Barassat
Actors: Freddy Bournane, Ilona Szabo, Mohammed Aamoun

Language:French
Country:France
Also known as: The Necrophile,

Description: Every man has his own special vulnerability. Main character of this movie just happens to be a necrophile. He leads an ordinary, harmless life, just time to time having fun with deceased ladies. He is also like to eat cockroaches. But his real problems begins when his pretty little orphaned cousin came to live with him… Director/writer Philippe Barassat did great tribute to german expressionism and sleazy european horrors of sixties. 
Empty streets asleep cities wandering a strange creature, half-man and half-polpol similar to unnatural hybrid of two of Shrek: the one that played when something unforgettable Nosferatu in Murnau, and the hero of children's cartoons. Only he has no sinister obsession first, neither charming ugliness second only sad doom of the outcast and the eternal fear of a hunted beast. Monster, barely touching his feet, clad in iron boots, walks on secluded streets and wide avenues, looking into the Windows of the dying beauties, in order then to go to the cemetery with a funeral procession, hide in the shadow of the graves with a shovel in his hands and patiently wait for, finally, grieving relatives leave this valley of tears and sorrow. Then comes the time of Necrophila: to dig up the corpse, to bring it into their pathetic closet, undress, lay down, and… Yes, and eat it, too – the eating ghouls, known to all. But the hero shorts Philip Barossa not enough to saturate your body. This wretched, and miserable freak craves love and care that dear to his heart (or whatever it instead of the body there) corpses to give him unable. But once in the door of his room, the phone rings, and two policemen left in the hands of the wretched ghoul little girl with the Golden hair: beautiful orphan, cruel fate will rest in the care of the ugly… And the screen turns another version of the immortal story of Beauty and the Beast.
Told stylized under German genexpression 20-ies (no wonder Murnau here quoted almost directly) the story of strange love, the impossible friendship and perverted sacrifice to the grave and after destroying all ideas of beauty, will reverse the poles of good and evil and without any fulcrum turns morality. All external: trupoint and thropologist, despair and loneliness, beauty and ugliness – retreats in the face of love, which does not choose. And which is capable of even the most outrageous being to see the best and clean. And all that is left out of this feeling out of this friendship/love two completely alien to each other creatures, can any pounding his fists on the table and threaten all possible punishments. Because, ultimately, this world is not the only one. And nobody has yet proved, contrary to the belief of Leibniz that he is the best of all.
Screenshots
Download