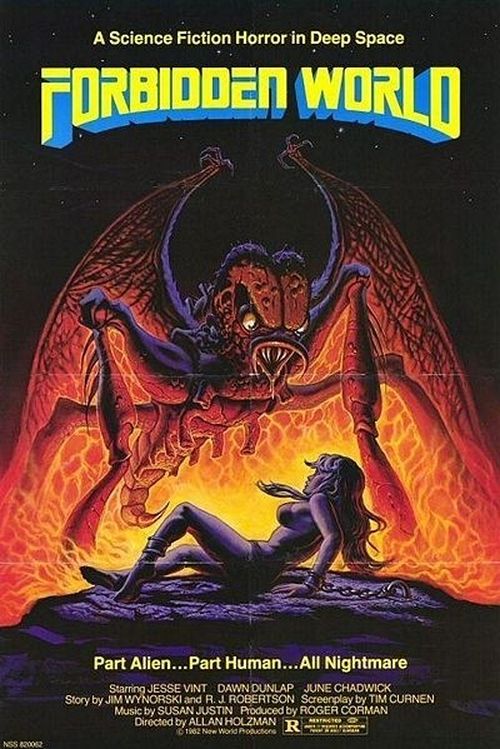 Year: 1982
Duration: 01:12:21
Directed by: Allan Holzman
Actors: Jesse Vint, Dawn Dunlap, June Chadwick
Language: English
Country: USA
Also known as: Mutant
Description: On planet Xarbia, an experimental life form, Subject 20, has been created by an elite group of researchers in hopes of preventing a galactic food crisis. However, when Subject 20 becomes deadly, the best troubleshooter in the Galaxy is called in to investigate.  
This is a really entertaining splatter flick (yes 'splatter' – it does work as a sci-fi flick as well, but the amounts of gore and slime are enough to please any and all gorehounds and/or splatterfreaks, while the emphasis on the plot is… well… minimal). It was crafted in 1982 by none other than the talented Roger Corman and it clearly showcases the man's legendary ability to work miracles with a tiny budget. I suppose you could call it a kind of sequel to his other sci-fi themed B-diamond, 'Galaxy of Terror', although I prefer to view it as an altogether different kind of beast that can actually stand on its own. It also happens to be one of those so-called 'Alien rip-offs', along with 'Alien Terror', 'Contamination', 'The Deadly Spawn', etc., etc., so if you are a fan of those films you are definitely in for a treat here. I know I am, and 'Forbidden World' (aka 'Mutant') is a favourite of mine.
The plot of the movie based on the story written by Jim Uaynorski and R. J. Reynolds. Robertson — not the last persons in the world of low-budget cinema, which plunges us into a cosmic entourage, where the heroes have to deal with the result of genetic experiments conducted on the space station on a distant planet. The shooting occurred in the decorations left over from previous Corman films. And futuristic entourage a few breaks, when we show a panel with buttons with inscriptions in English, in which "Star wars" you will not see. But in General the film is little harm. Roger Corman knew that can best attract the viewer and hold it near the screen: "While the rivers of blood and Boobs will pay — I'll take them off". And therefore all traditions of the genre — not without the red liquid, there is erotica, and it's really nice. Oh what terribly hurts the film is the presence of a number of logical holes associated with the experiment, and a rather awkward way of killing the monster at the end.
Summary: excellent, worthy in all respects thrash on the space theme, which has become largely a reference and example for future similar number of creations — "Deep space", "Dead space", "Dark universe". Fans excellent entertaining horror and not to be missed.
Screenshots
Download