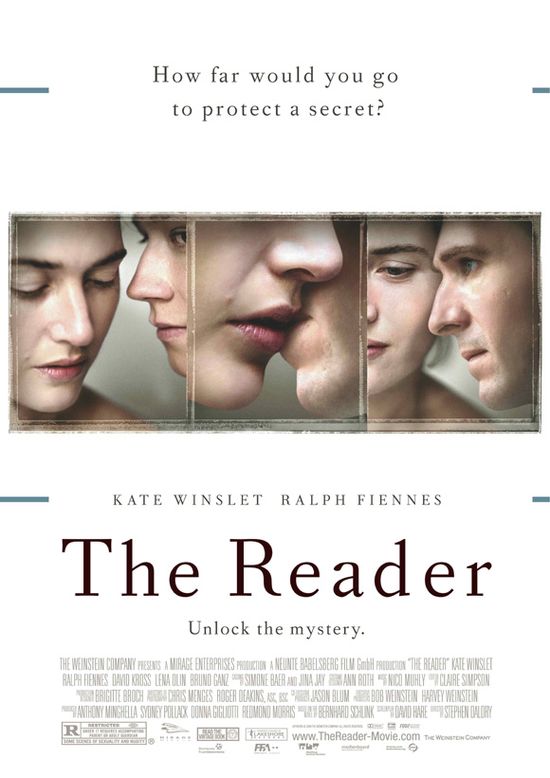 Year: 2008

Duration: 02:03:58
Directed by: Stephen Daldry
Actors: Kate Winslet, Ralph Fiennes, Bruno Ganz, Jeanette Hain
Language: English
Country: USA | Germany

Also known as: Der Vorleser, Sheng si lang du, Okuyucu, Le liseur, The Reader – A voce alta
Description: The narrative of Reader is structured into three stories, each of which is recalled from the memory of an old Michael Berg. The first part takes place in 1950 in post-war Germany, in a small town, whose name is not specified (assuming Heidelberg). The second part – after 10 years – is in Berlin, where Michael studied law. The final part of the story takes place in the 1990s.
Review: Film 'The Reader' was for me the most tragic film about the love for the whole life lived. The film has a very depressing atmosphere of postwar Berlin, making the film more tragic, and all this against the background of the picture is inappropriate and vulgar and also beautiful mating of two completely different hearts.
Actors. Kate Winslet (the movie Jude) as always on top. I believe the role of Hanna Schmitz decent role worthy actress. Her character and breathes anguish and drama that I want to look at this poor soul and burst into tears. David Cross, sorry, it is not much. He is in my opinion a bit overplayed, true courage to come in so vulgar as he had in the bathroom, for which he is a big plus. And finally, an actor who I give preference to – Ralph Fiennes. He played no worse than Kate Winslet, well his role, gave the film more dramatic its impeccable mimicry.
About the movie. One thing I can say the film is not for everyone. Of course, many people prefer to 'Matrix', 'The Wedding Planner' and other extruded films, not paying attention to such amazing films about love like this. I can not form an opinion about the people who write negative reviews this film, but I can assume that it is they who are a group of fans of `single` panky.
I recommend the film Reader to all who are tired of cheap happy-endings in films about real life stories that will never come true.
Screenshots:
Download: