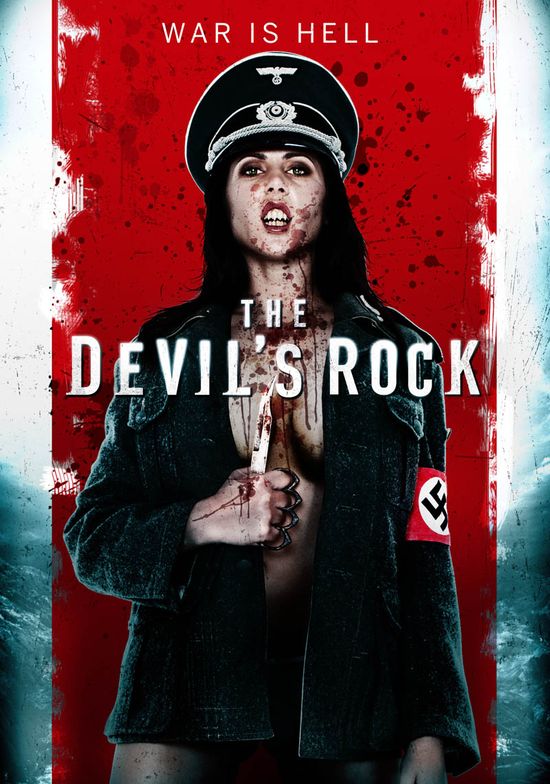 Year: 2011

Duration: 01:22:40
Directed by: Paul Campion

Actors: Craig Hall, Matthew Sunderland, Gina Varela

Language: English
Country: New Zealand

Also known as:La colina del diablo
Description: A group of commandos were sent to the area of ​​Channel Islands to destroy a Nazi group based there, get to know about their secret plans to call demonic forces. Since then, the operation of commandos into a fight not only with Hitler's troops, but also with demons in human form. This flick is quite familiar with another unpopular film about nazis called Dead Snow

Review: "The Devil's Rock" – is another representative of the war-horror (horror on military issues), this time a native of New Zealand. I looked at it not once, as there is a possibility for something I'm always alarmed, and the other films lacked, and that's when everything else was planned, it was revised, and I took over the "DS". And as it turned out, the film turned out very much at all bad, especially compared to most creatures frankly weak in terms of the horror of 2011.
That's what, good low budget? Yes, that from them before watching do not expect anything special, but as a result they also manage to please the good or even surprise. But even if this does not happen, it is still disappointing not as great as the cost of large paintings, which are already required to be something worthwhile, since they are investing large amounts of money.
With all that, the film Devil's Rock sets a minimum (almost all the action takes place in small rooms and narrow corridors of a building) is not a large number of characters (focuses on two men, not counting the demon), he looks with interest and stronger with each passing minute delays in its atmosphere, and this is probably the most important thing. The colorful characters and the actors played decently. Over effects saved correctly: not showing the murder in the course (although it will be the same one), and just scattered all over the floor of the body torn to shreds. Thus, the "meat" and "guts" are in short supply, and thus there is no so-called "dumb massacre" (something I bloody love the movies, just hinting that with all the gore film may like not a fan of this). In the end I was hoping for some kind of unexpected twist and it happened to my joy. Not that I was very surprised, just good news is that it's supposed to be scripted. Nice when obvious that the creators tried to pull the most out of the minimum that they had.
From the fact that did not like, I can call the image of a demon that looked a bit too standard: red skin and horns. You could come up with something interesting, something grotesquely. Well, of course, always low-budget (or almost always) makes itself felt, and another thing on how much it affects the whole picture. In this case, not deadly, more than tolerant. As they say "cheap and cheerful".
In general, of course, if there were more characters (called as "a group of commandos," said a synopsis was already a two-person) or they showed us exactly what happened to the Germans before they arrived on the island of New Zealanders, it would be great to do. As a rule, the horrors of the many minor characters that are used to create the effect of surprises in terms of "who will be the next victim?". Here, roughly, one good, one bad, and between them a demon who is just waiting when one of the men stumble, that would eat it fresh flesh. In such a situation like it is immediately clear how it ends, but still interesting to observe what is happening, but in the end even the ending is not so banal. Overall, I was pleased.
I advise everyone who liked such films as: "Bunker", "Guarding the death", "Dog-Soldiers" and "Book of Shadows" (the last to war-horror is not related, but there is another common theme of "spell book" and the number of characters and locations are also kept to a minimum), perhaps it is with these paintings and was inspired by Paul Campion, at least, to me they seemed most congenial.
The film Devil's Rock left only pleasant experience. I liked almost everything in it. Disappoint surroundings of the castle. It was more like an underground bunker, rather than the place where he lived a demon. The actors were a pleasure to watch, guts and dead bodies – is quite consistent with my idea of ​​a real meat. The demon is also a bit disappoint, though … maybe they are not evil at all, and with nasty mugs, as we used to think. The moral of this movie is that, if anyone called, do not forget to shove him back. We still do not know why the huge empire collapsed Third Reich;).
Screenshots:
Download: