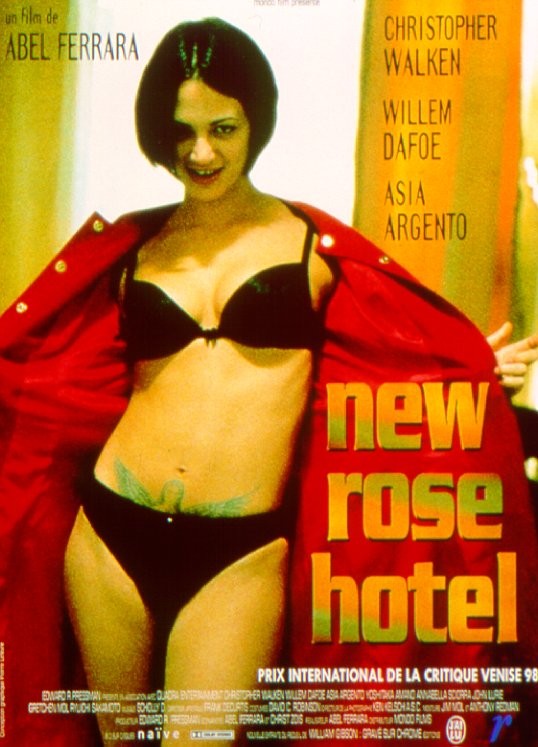 Year: 1998
Duration: 01:29:20
Directed by: Abel Ferrara
Actors: Christopher Walken, Willem Dafoe, Asia Argento
Language: English
Country: USA
Also known as: Enigma do Poder (Brazil)
Description: Yes folks you read that right, this little flick is an adaptation of the William Gibson short story and stars everybody's favorite euro-freak girl Asia Argento.  When we acquired our copy of this we wondered if it was already here on CG.  A quick search revealed that an older and smaller version is here but after nearly 3 years an upgrade/alternate version certainly is in order.  So what is this flick about you ask?
New Rose Hotel is Abel Ferrara's adaptation of William Gibson's short story by the same name.
Fox and X are specialists on corporate extraction. That means they are mercenaries with a very specific purpose, to make R&D specialists escape to work in a new corporation rather than being killed by their current employers that would not accept such a change.
Fox starts chasing Hiroshi, a super-genius working for Maas, the corporation that made him a cripple. In order to make him defect the corporation, Fox and X use the talents of Sandii, a "Shinjuku-girl" – a small-time hustler and a call girl – .
But the very complicated relations in which they get involved will not help their purposes, since none of them will suspect or be prepared for the coming consequences.
Fox needs to negotiate a deal with the destination corporation, Hosaka. Sandii needs to make Hiroshi fall in love with her to defect with her to Marrakech. X needs to teach Sandii how to simulate the feelings she must have for Hiroshi.
So as you see it's a classic confrontation of megacorporations with the added twist of corporate espionage taken to new levels in an extreme form of corporate head-hunting.  Some folks love the flick and some don't, here's one from a lover:
Review: At the beginning of the movie plot seems out of context. Something started before us, and we just became an involuntary witness atypical development normally – works to remove the scientist from the power of a corporation in order to resell the other. We know nothing about this world the near future, except that he also trivial in their routine as ours.
Hero Walken – enthusiasm for business hunter doing his job for the love of the process, and the realization that the more he did not know how this reality. Defoe – his partner, is to extract from the fruit of their existence pleasures. Sandy – free girl character, the perfect bait for the hunter, a source of pleasure, and anonymous power that changed the balance of the war plans of corporations and their employers.
Obviously we do not see explosive emotions, passions: we scroll the film, but the action is like behind the scenes. All that we experience – waiting until the decisive moment, the longing for a bygone reality, confusion and quiet desperation after Defoe.
I will not exaggerate the artistic, director, cast, etc., resorting to loud epithets. I just loved that movie. And a big role in this is more interesting and personal passion for the genre.
Screenshots:
Download: