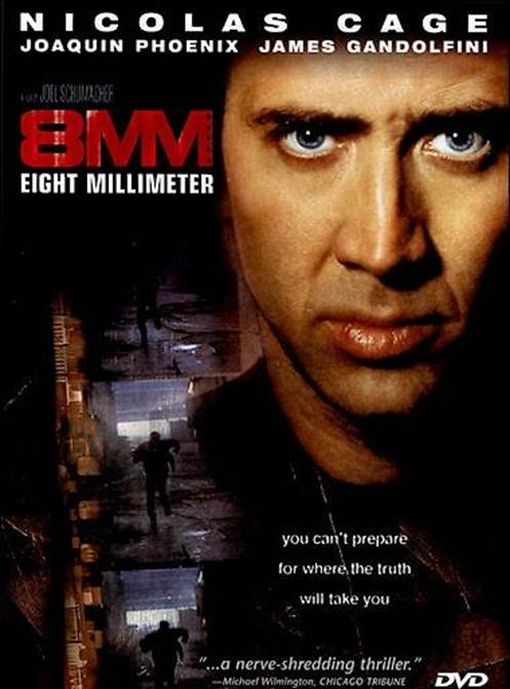 Year: 1999
Duration: 01:58:20
Directed by: Joel Schumacher
Actors: Nicolas Cage, Joaquin Phoenix, James Gandolfini and Peter Stormare
Language: English
Country: USA | Germany
Also known as: 8mm – Acht Millimeter, 8 mm, 8MM – Delitto a luci rosse, Super 8
Description: Film projector's light is able to penetrate into the darkest corners of the human soul. On the tape, which fell into the hands of a private detective, the scene depicts the brutal murder of a young woman. He is recruited to identify the poor and to find out whether it was the crime committed. In the rapid flashing of scary video detective unsuccessfully trying to discern the face of the main director. Unwittingly detective becomes a part of a cruel scenario, where he plays the role of victim. At 8MM, from the death of any careless step can be fatal …
Review: Back in 1999, when I was young, the tape Joel Schumacher looked incredibly dark and terrifying, and greatly impressed me, then a very young guy (akin to watching my first "Basic Instinct Paul Verhoeven). Who and why let me see this kind of painting as a child, do not ask. Then the film was remembered, above all, a dark, oppressive atmosphere that he was completely soaked. Remembered, of course, and Nicolas Cage, who became one of my heroes in those years.
His hero is a private investigator conducting an investigation into the murder of a young girl by plunging into the brutal world of the porn industry, and he begins to teeter on the brink of death, turning from an honest and humble guy in a cruel and ruthless type. Viewer with a hero Nicolas Cage (Sonny) is on the way the investigation from the beginning and up to an unexpected outcome when, it seems, and he becomes a different person Cage.
Thanks to an intriguing plot and artistically created by Joel Schumacher atmosphere of presence, immersing the viewer in what is happening, the picture «8MM» and over the years does not lose its dark and gloomy charm. Not carried away with obscenity and vulgarity, not showing excessive and totally unnecessary here erotic scenes (because film is not about that), Schumacher focuses attention on the main character and the changes in his character.
Cage plays himself again on the verge of fantasy, arguing that the millions of fees and obtained his superstar status for a reason. Little forgotten, but not lost over the years its darkness ribbon pattern and a really good quality detective thriller with good music, studio directing and classy cast led by Nicolas Cage. All this is about "8mm" – a picture worthy of the attention of fans tickle your nerves.

Screenshots:
Download: