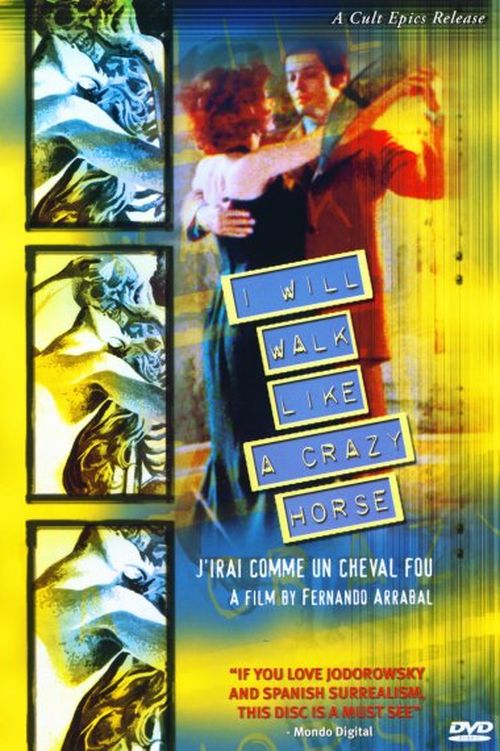 Year: 1973
Duration: 01:29:32
Directed by: Fernando Arrabal
Actors: Emmanuelle Riva, George Shannon, Hachemi Marzou
Language: French (English Subtitles)

Country: France

Also known as:  J'irai comme un cheval fou | Irei Como um Cavalo Louco | Iré como un caballo loco | Saavun kuin hullu hevonen | Andrò come un cavallo pazzo | Popedze jak szalony kon | Irei Como um Cavalo Louco | Jag ska löpa som en galen häst | I Will Go Like a Wild Horse | I Will Walk Like a Crazy Horse | Ich werde laufen wie ein verrücktes Pferd

Description: The hero of the picture Aden runs from the society in the wilderness after the mysterious death of his despotic and sexually unbalanced mother, where she meets a hermit marvel ancient solitary deity, opening to him the essence of things.
Review: Inspired by the work of the great Alejandro Jodorowsky, I could not miss the picture of his best friend, Fernanado Arrabal. Based on a play that was set first feature film "Fando and Liz." I can not argue with the fact that Arrabal has a style that is difficult to replicate. But to me it was not to the spirit. He's too theatrical and implausible, even for surrealism, where truth and lies almost impossible to discern. By the way, this same pattern is guessed and "Fando and Liz," but everything was under control Jodorowsky and he did not turn everything into a theatrical performance.
Pretty boring narration throughout the film Crazy Horse distracts from the promised topic of disclosure essence of all things. The film is not a thing, "beyond reality" that attracts surreal films. All mental return of Aden in the past looked gray and dull, and seem to be completely superfluous.
Does not shine and the film actor's work. The ancient god of Marvel's more like a dwarf who does not know what to do in front of the camera. As soon as George Shannon may seem like a good actor who plays the role of a qualitatively guy is not of this world, but it is only when the rich imagination. In general, no one is shocked or caught for the soul. In the works of the same master Hodo, every character – a separate world, which one wants to understand and feel. Here – all tasteless and heartless, "indigestible" the picture that you want to understand and sensibly estimated, but not impossible.
Screenshots:
Download:
I Will Walk Like a Crazy Horse