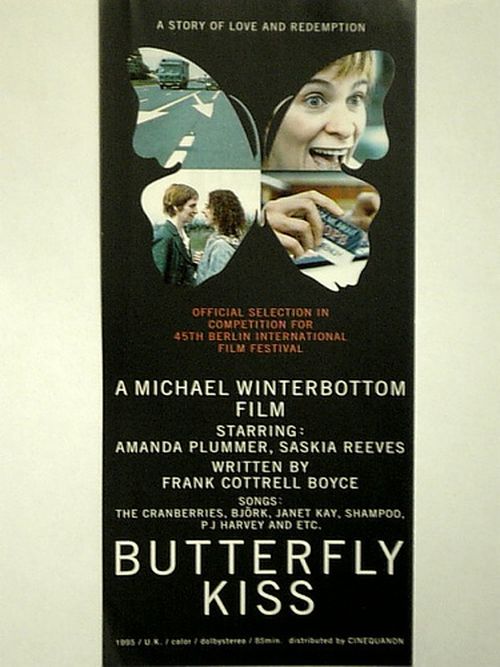 Year: 1995
Duration: 01:27:44
Directed by: Michael Winterbottom
Actors: Amanda Plummer, Kathy Jamieson, Saskia Reeves, Des McAleer and Lisa Riley
Language: English
Country: UK
Also known as: Killer on the Road, O Beijo da Borboleta, Butterfly Kiss – tappaja tiellä, Butterfly Kiss – Il bacio della farfalla
Description: Eunice wanders through England looking for Judith. Miriam sees herself coming closer and closer to Eunice and decides to join in her in this strange search. But when Eunice's sociopathic tendencies lead to bloodshed, Miriam tries to help her find her soul too, all the while slowly losing her own.
It's a very strange love story, an yet not quite so. What i thought to be the bigest question of this film is the way everything ends. Is sacrifice the highest point one can reach? As specially if that implies self sacrifice, as well..
Review: The film was honored by the attention of many observers of those that wrote about the Berlin Film Festival of 1995. Usually, the "butterfly kisses" mentioned in conjunction with the Canadian band, "When night falls." Both paintings were fitted to the parameters of the "pink film," although in this movie lesbian motives play is not the most important role. It also bears little resemblance to the standard and the crime thriller, and not because of the universally ignores suspense, but because it corresponds more fashionable in the 1990s, the direction of realistic art film about the unmotivated murders.
In subsequent years, the prolific Michael Winterbottom (I Want You) wagon took on a variety of topics and genres. And in 2004 he again shocked the public by removing the "9 Songs" – "the most sexually explicit tape in the history of British cinema." As is the case with Butterfly Kiss, The British Board of Film Classification nevertheless decided to release it in its entirety, but accompanied with the strictest age limit – "only for viewers over 18 years."
Screenshots:
Download: