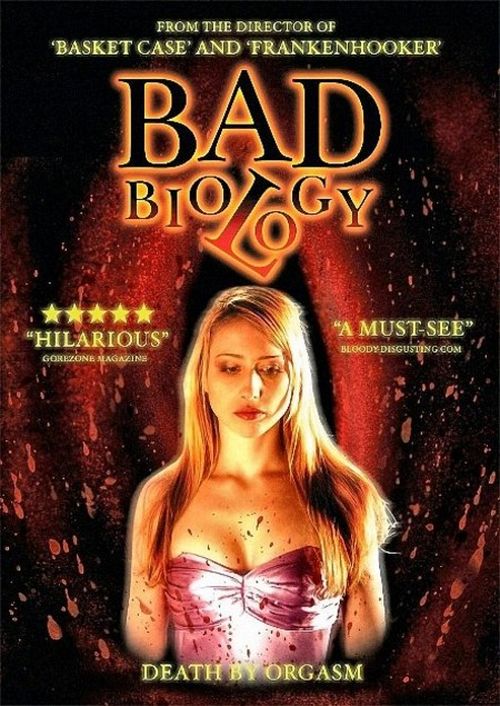 Year: 2008

Duration: 01:24:08
Directed by: Frank Henenlotter
Actors:  Charlee Danielson, Anthony Sneed and Mark Wilson
Language: English
Country: USA
Also known as: Bad Biology – Kieroutunutta kemiaa
Description: A guy and a girl, not knowing about each other, are looking for the satisfaction of sexual needs, extending beyond biology. But, unfortunately, then they are met, it all resulted in a highly eccentric nasty and touching love story.
Review: Main character, Jennifer, happy / unhappy owner of seven clitoris, unsuccessfully trying to find the highest pleasure in the arms of average men. Men naturally do not. But fate kind to Jennifer, and looms as a guy who has a big presence in a reasonable member of the mutant, living independently from the body and suffering from drug addiction. As much as 16 years later after the shock «Basket Case 3″ great and terrible deviant movie maestro Frank Henenlotter returned to remove the most perverted and raunchy film in his distinguished film career, and show everyone what.
Sight, I must say, it did not work for the Puritans. I think the movie flew high marks just because of blatant immorality of the action in the first twenty minutes will frighten the most sensitive part of the audience. Guardians of morals and lovers of "beauty in the movie" movie absolutely hate it. Tons of nudity and fucking in the frame of a permanent mold of "Biology" eerie psychedelic soft-porn with insane plot totally goofy, but vivid characters and specific such purely henenlotterovskim yumorkom who shamelessly turns into a comedy, even the most repulsive scenes.
To the credit of the author, "Bad Biology " again came spectacularly ill opus, which inevitably are scattered its audience on two opposite poles. In some people it causes tenderness and delight, others nausea and disgust. And how could it be otherwise?
Screenshots:
Download: