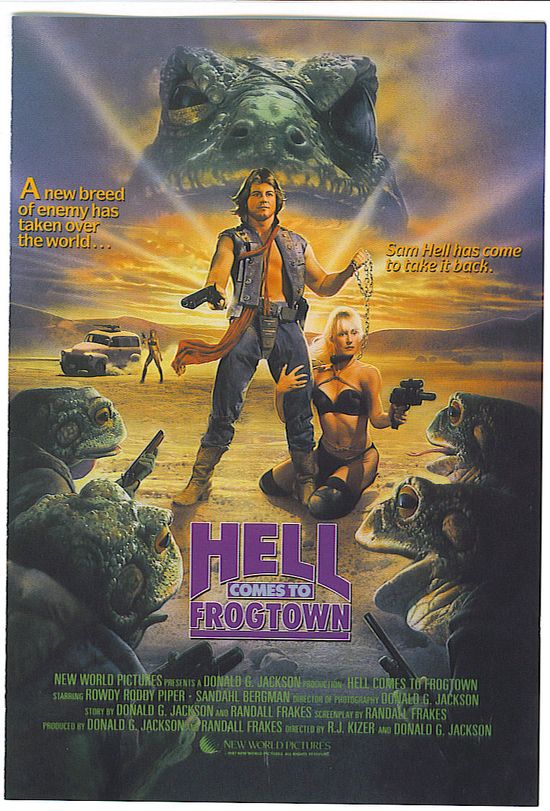 Year: 1988
Duration: 01:26:21
Directed by: Donald G. Jackson, R.J. Kizer
Actors: Julius LeFlore, RCB, Roddy Piper
Language: English
Country: USA
Also known as: Sam Hell ist: Der Jäger, Transmutations, Apocalisse a Frogtown, The Hunter – Ein erbarmungsloser Jäger
Description: Roddy Piper plays Sam Hella, athlete, power was successfully supplemented his composure and wit. Sam sneaks into Froggy city, industrial nightmare infested mutants.
The only chance to survive – is to combat the LTTE supreme mutant, sowing death. Mad hunt begins …
Review: Well , to begin with , that the word Hell in the title – it's just the name of the character. Once I learned the name acquired for me a slightly different meaning. Until then, I thought it would be just stupid fighter with endless skirmishes , but the plot is a little surprised .
Hell Comes to Frogtown corresponds very trash films 80s . After a nuclear war, 60% of men were killed and government corporation MedTek need a man that can impregnate a woman . That this man is Sam Hell , so he was sent to the city of toads ( on a pink Ford 40s ), where girls are captured mutants capable of giving birth . Yes, that's so strange the movie tie .
Toads made ​​costumes are not so bad in relation to other films 80s. Even now, some movies are not so good and capable anturazhnye create costumes. But this does not mean that they are ideal , head movements and other body parts sometimes look too artificial . The blood on itself is not like some places looks like blueberry juice , places like the usual red paint. Special effects , especially the explosions absolutely incredible, actually like sparks from bullets.
Music in the film normal , but because is not memorable . Only during the scenes where the protagonists went through the wilderness, sounded interesting inserted tune , something like westerns with Clint Eastwood .
In general, the main focus of the film was made on a beautiful female representatives on the scene with them. This film is in no way surprised , and , probably, in general very few people like , because these movies too much has been done , with a strange story, unknown actors and a small budget . The only thing that remains unclear to me – it's from Sam at the end of the film come from behind a samurai sword ?
Screenshots:
Download: