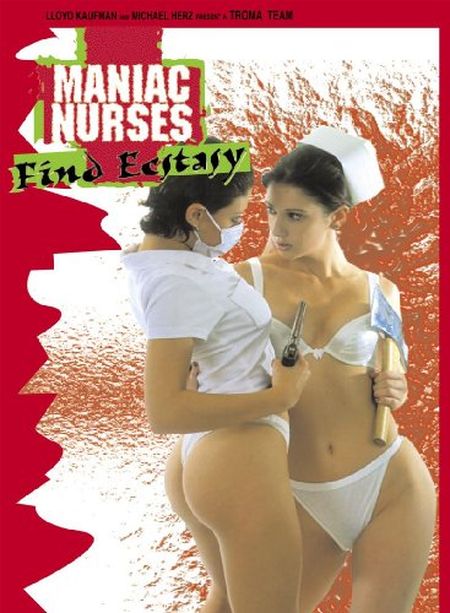 Year: 1990
Duration: 01:13:51
Directed by:  Léon Paul De Bruyn (as Harry M. Love)
Actors: Susanna Makay, Hajni Brown, Celia Farago
Language: English
Country: Belgium | Hungary | USA
Also known as: Maniac Nurses Find Ecstasy, Bloodsucking Freaks II,

Description: Hot and sexy nurses walk around in lacy lingerie, seducing patients, and then brutally torture and kill them using zombied specialists.

Review: Studio «Troma» known primarily for the film " Blood Sucking freaks ," released in 1990 is extremely kitschy trash- horror called " Maniac Nurses find ecstasy ." As expected , the film is primitive . No wonder that the filmmakers have gone as far as possible from the art on the screen leaving only a very shoddy operation and extravagant characters. Actually, in my opinion, this film is the apotheosis of kitsch. Images created in " Maniac nurses ' long entered the film industry when it was necessary to create an additional effect , shock or shock the viewer.
The image created in the film is a beautiful young lady in a stunning outfit , able to kill their own kind . Kitsch characteristic that plays on our most primitive feelings. In this case we have a way of sort of the Amazons , and very sexy. Not only is the basic garment girls lacy lingerie , stockings, garter , which look great on elastic hips, so to all other ladies are skilled killers. This image operates two basic emotions or feelings of the person if you want , in particular eroticism and desire for violence. Of course, these emotions are incorporated in each of us, but in this case kitsch bring them to the limit. In " Maniac nurses ' refers to the apotheosis of these emotions when sex is not a pleasure , and violence becomes so routine and boring that the meaning is lost in the ongoing executions .
The plot in this film becomes not so important , but nevertheless present. And it is that in some strange hospital corrupted to limit women torturing and killing their patients to satisfy their desires . I do not even think there is a sense in more detail about it tell. I want to dwell on those cons that make the film so disgusting that such questionable masterpieces as "Sex android " or " Slaughterhouse  " looks much more interesting and plausible, even though the value of these films can argue . But back to the downside . The first and in my opinion the nastiest – unrealistic events. Of course , I understand that the creators wanted to spit on this realism , they were shooting a film is not behind this . But if in this case not to say openly that you shoot horror story , the viewer is configured to show a bit as it should be. The most important ingredient in the films of the genre is trash humor . I have already mentioned in one of my previous reviews that without humor is impossible to watch these movies . I do not intend to depart from this principle in the future.
Screenshots:
Download: