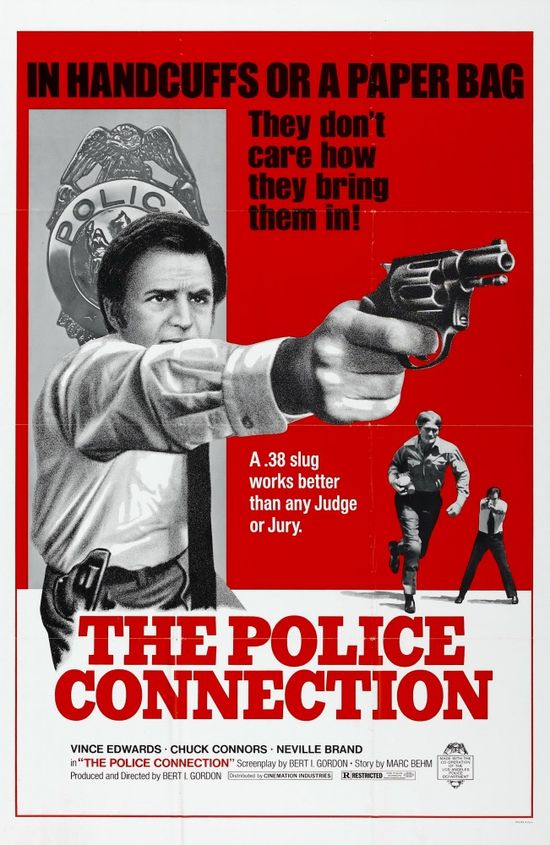 Year: 1973
Duration: 1:30:55
Directed by: Bert I. Gordon 
Actors: Vince Edwards, Chuck Connors, Neville Brand
Language: English
Country: USA
Also known as: The Police Connection, Le détraqué, El dinamitero, El dinamitero loco, Aus der Hölle gespuckt, Mad Bomber – L'uomo sputato dall'inferno

Description: William Dorn decides to take revenge on all the people who blamed him for the death of a drug overdose of his daughter and the breakup with his wife. The first target of his vengeance becomes old school, where he studied daughter. The second aim of becoming a psychiatric hospital where his daughter died. Finally, the last purpose distraught William becomes a feminist organization, the member of which was his wife.
However, during the explosion of a bomb in the hospital, witnesses of a crime becomes a criminal is a rapist George Romli and his victim, a young dumb girl. It takes a detective Geronimo Minelli. The first thing he goes in search of Froml. And not only in order to arrest him, how much to save him from the fate of becoming another victim of revenge William…
This film was made by a little-known Director Bert Gordon in 1973. Was removed, probably because it wanted to earn a lot of money… And what eventually happened? Film dead post-apocalyptic atmosphere, terrible actors, schizoid bomber, strange music, a bunch of templates, homemade porn wives, rape, drugs, dynamite and exploding feminists… Although that still need to be cult movie of the 70s?!..
Can't say that I liked this film. No, just "Mad bomber" is a very interesting movie and I rested on his view. This is a real explotan it all depends on how you feel about him. At first it (the film) it could pass for a drama deeply humiliated insulted person, but more and more as the saying goes "more interesting". There will be a lot of drivel and dynamite, and the film itself will rapidly jump from one genre to another. From slashers in the crime drama, crime drama police TV series…
Screenshots
Download