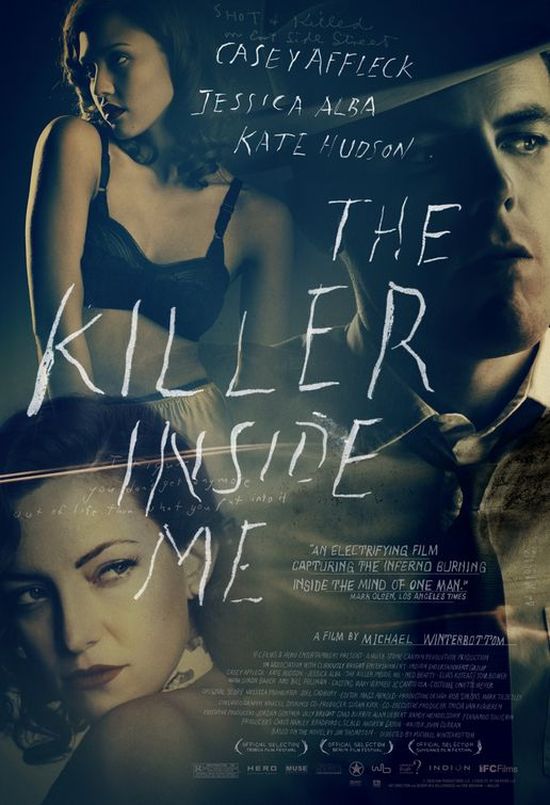 Year: 2010
Duration: 01:49:14
Directed by: Michael Winterbottom
Actors: Casey Affleck, Kate Hudson and Jessica Alba
Language: English
Country: USA
Also known as:  Убийца внутри меня, El asesino dentro de mi, El demonio bajo la piel, El diablo bajo la piel, Ha'rotze'ach she'betohi, Morderca we mnie, Morilec v meni, O Assassino em Mim, O dolofonos mesa mou, Tappaja sisälläni, Ucigas in mine
Description: Deputy Sheriff Lou Ford – a real Texas guy from a small town – is unhurried, friendly, and even charming. Inside he hides a completely different person: A relentless  multiple  murderer who kills as easily as he lights his cigar and has  sadistic, consensual  sex with a masochistic woman who loves him. He watches with interest to see whether a team led by the District Attorney will be be able to find out that he is  the real killer.  Will he finally be stopped on his evil road?
Review: After seeing the movie "The Killer Inside Me," I was filled with a variety of feelings. On the one hand, the film was not boring, action hero always stirs interest, on the other hand, these same actions I was not always logical, and the end of the movie so I was shocked at all …
In the film we see life, or to be more precise, a double life is not a deputy sheriff of the largest American town. In the words of the main character in the beginning of the film, in all these towns always know who you really are … However, no one knew and could hardly imagine that quite a comely young man can be also a monster.
I was very struck by the game Casey Affleck, the way he got used to the role of self-righteous bastard, as he played a believable emotion. So it was unusual to see and Jessica Alba (Machete) in such a role. But the role she has done.
Screenshots:
Download: