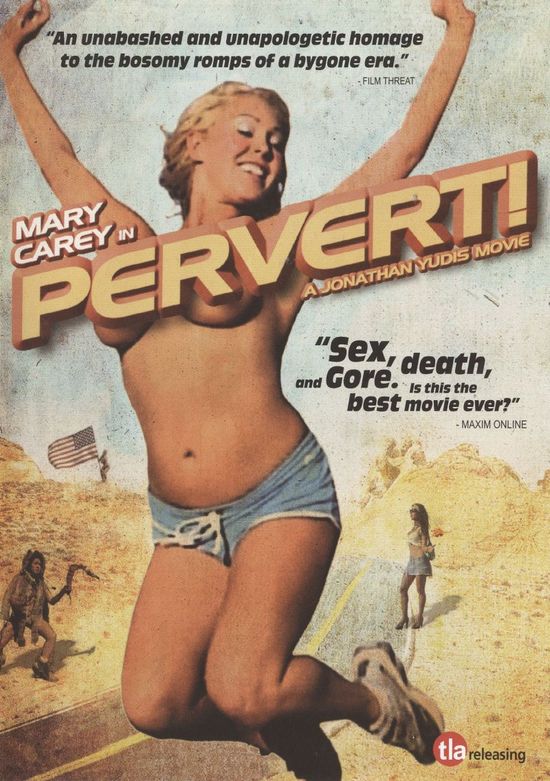 Year: 2005
Duration: 01:20:39
Directed by: Jonathan Yudis
Actors: Mary Carey, Sean Andrews and Juliette Clarke
Language: English
Country: USA
Also known as: n/a
Description: Russ Meyer once said: "What the public wants are big laughs and big tits and lots of 'em. Lucky for me that's like I like, too." It appears that writer Mike Davis and director Jonathan Yudis are very much on the same wavelength.
This movie includes such scenes as:
Claymation

Kick the baby

Killer cock

Girls with guns

Gay nazi wigger mechanic

Fucking dad's girl
In PERVERT! Yudis has created a style of film that, in most cases, has been dead for a long time. It's film that decides to go all the way and not hold anything back. It's a movie that's equal parts comedy, part horror/gore movie, and part sex film. It's a crazy and unbridled romp through Meyers land and it's made even better by the fact that Yudis has obviously studied the geography as his movie comes across almost as if it were made by the man himself. The music, the editing, the dialog…all of it is there. I've often wondered what Russ Meyer might be able to do with the advent of the digital film-making revolution and Yudis has provided the answer. Meyer'd make something almost exactly like PERVERT!.
Review: Look, I'm not going to take a thing away from Robert Rodriguez or Quentin Tarantino when they take on the task of re-creating the classic B-movies of the Russ Meyer era — but when you have $50 million bucks at your disposal to spend on state-of-the-art effects and every actor in town lining up to work with you, let's just say you're working with advantages that Russ Meyer would have sawed off his own leg to achieve.
Jonathan Yudis did it on a real Russ Meyer micro-budget, and pulls it off beautifully. Pervert is an over-the-top spoof with deliberately hokey special effects, obviously fake violence, joyously cheesy sexploitation, and deadpan acting by a cast that's obviously enjoying what they're doing.  If you're a fan of the Russ Meyer classics, this is a must-see movie.
Screenshots:
Download: