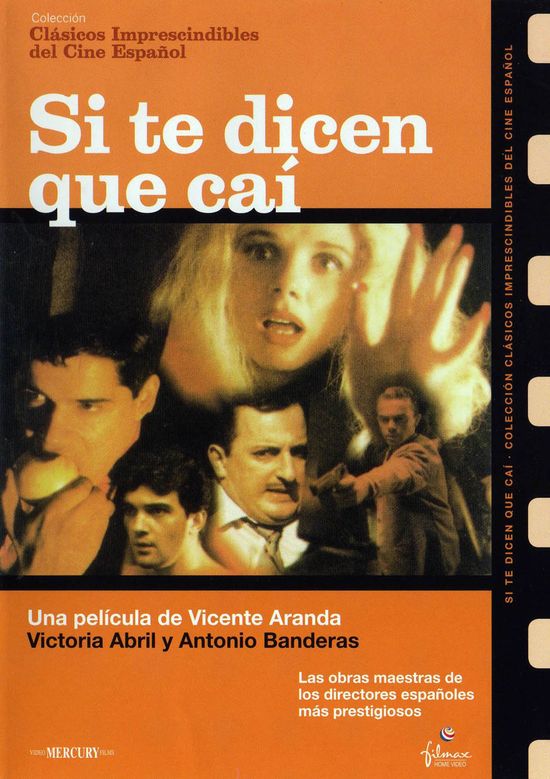 Year: 1989
Duration: 01:54:41
Directed by: Vicente Aranda
Actors: Victoria Abril, Jorge Sanz, Antonio Banderas
Language: Spanish | Catalan
Country: Spain
Also known as: Si te dicen que caí, Aventis, Sodan hymy
Description:Not to say that the film shocked me , but made ​​a pretty strong and mixed impression . Initially interested in strange name and a set of actors. However, only a secondary viewing helped me to understand this very not ordinary film.
This film is full of explicit scenes , perverted fantasies in it a lot of cruelty – but it does not matter , because the approach to the realities of Catalonia during the Second World paramount importance. Hatred of the Phalangists , the underground struggle and rejection of fascism Catalans … But – people are people , they are forced to adapt to circumstances and survive. Haba , Ramona , Marcos , homeless orphans – boys and girls … The ongoing war forces them to survive in ways which are possible , and you can not blame them .
All the characters in the film – a separate conversation . Victoria Abril plays three characters associated with each other, but almost the opposite . This triple role affects most, and quite right director ( and / or writer) who has put such an idea into the head of the film. Brilliantly submitted protagonist – Daniel ( also known as " Hub "). He is young, but already seen life , he sells his body, but the heart does not sell , he risks his life by sheltering his brother – communist from the Nazis , and it is unclear why falls in love with a prostitute . His brother plays itself Banderas – but the role is so small and clear that it is not worth discussing . The film has a lot of interesting characters , and each has its own , albeit a little story . In the script, it's not just stressed, and this has a profound meaning – you can safely change the name to «Aventis» – who watched will know what I mean.
Despite the fact that the film is composed of many pieces , which collect in the right mosaic is difficult, he looks at one go . The merit of the director and team in this very large, but … I longed to read at one time banned book Juan Mars and for some reason it seemed that the director did not say anything or not so little , I wanted to hear and see. Therefore only
Screenshots:
Download: