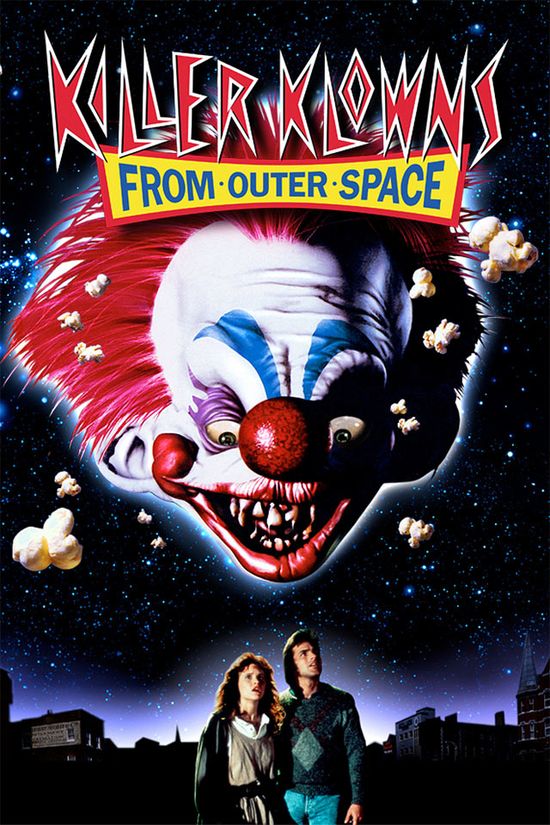 Year: 1988
Duration: 01:26:10
Directed by: Stephen Chiodo
Actors:  Grant Cramer, Suzanne Snyder, John Allen Nelson
Language: English
Country: USA
Also known as: Clowns asesinos, Gyilkos bohócok az űrből, Killer Klowns, Klovnovi ubice, Les clowns tueurs venus d'ailleurs, Palhaços Assassinos, Payasos asesinos, Payasos asesinos del espacio exterior, S.O.S. – Palhaços Assassinos, Space Invaders
Description: A pair of lovebirds notice a peculiar object swooping through the sky before crashing into a nearby forest. Driven by curiosity to witness what they assume to be a meteorite, the couple instead stumbles upon a circus tent that appears to be the landing site for diabolical extraterrestrials – killer clowns from outer space! These fiendish beings from beyond have one ominous mission: harvest humans as future rations. When talking about the "trash" film genre, many descriptors come to mind, yet there are specific titles that garner attention from both enthusiastic aficionados and detractors alike.
"Killer Klowns from Outer Space" is a quintessential example within this niche, entertaining in its absurdity. Gore isn't the film's primary draw, as the shock value isn't high enough to disturb those with sensitive dispositions. Rather, its charm comes from unapologetic and broad-spectrum humor. The storyline is familiar – another alien invasion. However, this time, the invaders have learned from past failed attempts seen in films like "Independence Day" and opt for a more subversive approach. They cunningly masquerade as harmless circus performers, whose intentions are anything but benign. Who would ever suspect a brightly colored, rubber-nosed figure of being a malevolent entity?
The clowns use various gimmicks to lure in their prey, ranging from cotton candy cocoons for the kids to shadow puppetry and comedically violent antics for the adults. What's there not to like in this film? In my effort to critique it, I found myself appreciating its qualities instead. With its groovy soundtrack, imaginative clown costumes, and creatively zany scenes, the film has something that appeals to many. There's rarely a dull moment as it consistently delivers entertainment, ensnaring viewers with its metaphorical clownish grip. Every scene reflects the dedication and passion the Chiodo brothers and their team poured into the movie. Each clown character exudes a unique personality, and there's no mixing them up. Human characters are just as distinct, such as the grizzled sheriff, the archetypical hero vying to save the planet, and a gamut of others from beauty to a hormone-driven duo. In essence, this film is a must-watch for lovers of 80s spine-chilling flicks like "Gremlins" and "Critters", fans of the trash genre, and anyone in the mood for an offbeat, sincere, and wildly creative cinematic experience.
Summary. I can recommend this film to all lovers of scary tales 80s (Gremlins, Critters), all fans of the trash, as well as people who want to see a truly honest, a bit mad and crazy work ..
Screenshots:
Download: