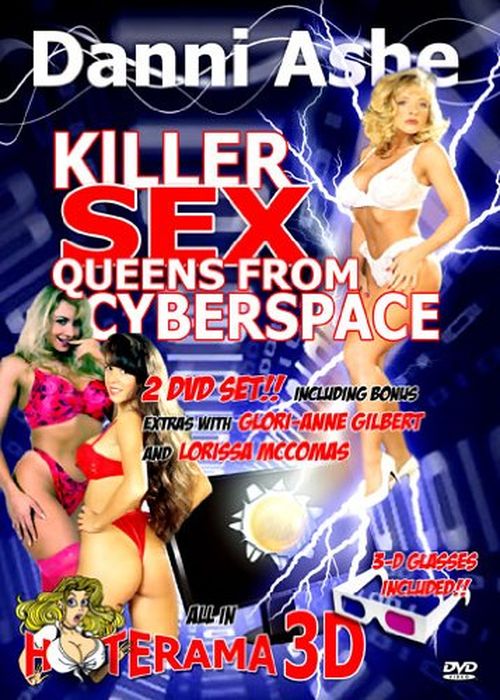 Year: 1998
Duration: 01:17:52
Directed by: Lou Vockell
Actors: Lorissa McComas, Danni Ashe, Glori-Anne Gilbert
Language: English
Country: USA
Also known as: Killer Queens from Another World, V.I.C.T.I.M.
Description: Killer Sex Queens from Cyberspace is an over-the-top parody of the X-rated video-store wars in Cincinnati that features not only Larry Flynt, playing "Big Larry," the owner of G-Spot Video, but that famous Cincinnati ex- mayor, Jerry Springer himself.
It's the story of Prometheus Software, a diabolical Cincinnati firm that has created Virtually Integrated Cybernetic Total Interactivity Models (V.I.C.T.I.M.), which amounts to sexy nekkid gals on CD Rom that climb down off the screen, sex you up, transform into a laughing skull-head, and electrocute your hiney. Sure we've seen this story before, but have we seen it with not one but two white-trash child-abuse subplots involving fat women? I think not. There's also Three dead bodies. Thirty breasts. Crossing-guard demolition. Aardvarking. One gratuitous shower. Multiple nekkid dancing. Multiple vodka-guzzling. Cyber-electrocution, with cheesy laughing skull head. Fairly disgusting "policeman's lubricant" scene. Even more disgusting capitalist-in-the-john scene. One live birth. Exploding skull. Video Fu. Fist Fu. Putting Fu. White-trash talk-TV fan punch-out Fu.
Drive-In Academy Award nominations for Lorissa McComas and her two enormous talents, as the stripping red-heeled Killer Sex Queen from Cyberspace who says "I'm always here for you, baby"; Michelle Monroe as the hot teddy-bear-hugging video-store manager in tight jeans who can do her nails while having sex, for saying "These (pointing to her chest) were not designed to flip burgers!"; Pat Van Voght as the oversexed slacker boyfriend, for saying "Wow! Computerized hookers!"; Marcus Franklin, as the evil industrialist, for saying "It can fry your motherboard" and "Quite frankly, it's the safest sex you can buy"; Jeff Weldy, as the dumb-as-a-box-of-rocks son of the owner, for saying "Come take a ride on the Lou-Lou Express"; and Lou Vockell, for writing, directing, dressing up like a really ugly woman, and doing it the Cincinnati way.
Screenshots:
Download: