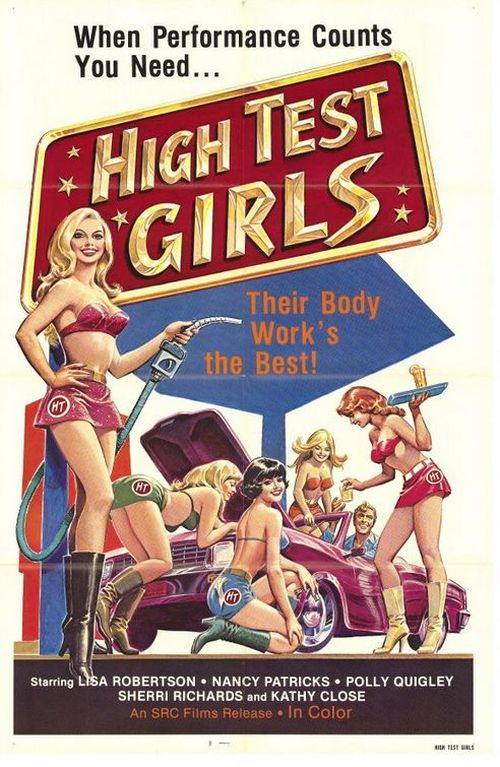 Year: 1980
Duration: 01:21:06
Directed by: Erwin C. Dietrich
Actors: Brigitte Lahaie, Nadine Pascal, France Lomay
Language: German | English

Country: Switzerland

Also known as: Filles sans voile, Friendly Favors, Six Suédoises à la pompe, Six Swedes at a Pump, Swedish Erotic Sexations, Swedish Gas Pump Girls, Swedish Gas Pump Girls
Description: Yet another Six Swedes romp starring the ever popular Brigitte Lahaie .   How many of these friggin' things did they crank out?  Anyhow it's more amorous antics and bouncing boobies as our fun-loving gals inherit a gas station, and you dear viewer inherit a bulge in yer knickers!  Sorry, no subs on this one so you do miss out on the philosophical discussions of Descartes vs Neitzsche,  and literary dissections of Proust and such, but try to forge ahead…….
So in shuffling through the vault the other day we came upon this disc with a notation "upgrade needed", not remembering why we made that note we checked the version here on the site and found that the file was damaged and wouldn't play cleanly, add to that it was only the English dub we remembered what we had in mind.  Thus we have crafted a dual audio rip for the fine folks here and we are even going one step further and we'll be uploading an upgrade of the companion piece to this gem today as well.
The classic question always is, "what is this flick about"?  Well if you have to ask about the "plot" or "story" in a flick like this you've missed the point!  The six beautiful babes are no longer in school so they obviously needed gainful employment and what better place than a petrol station? Made by Erwin C. Dietrich – Girls who Play Alone and Self Service Girls
Plot: Six sexy Swedish women have inherited a gas station in the Swiss village and serve their customers in full. Outraged morality mayor and his advisers are pushing them to the closing of this "business" merry maidens. However, all councilors have a love affair with the wife of the mayor and peeping at girls when they do charge in the nearby woods. Desire moralists close gas station becomes weaker and weaker as they get acquainted with the Swede is getting closer and closer.
Screenshots:
Download: