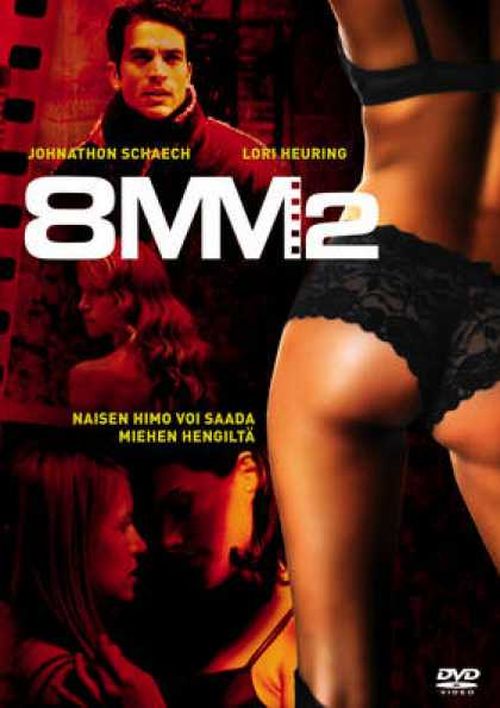 Year: 2005
Duration: 01:47:00
Directed by: J.S. Cardone
Actors: Johnathon Schaech, Lori Heuring, Bruce Davison and Julie Benz
Language: English | Hungarian
Country: USA | Hungary
Also known as: 8 MM 2 – Inferno di velluto, 8 mm 2 – perversions fatales, 8mm 2 – Hölle aus Samt, The Velvet Side of Hell
Description: American couple Trish and David, being in Hungary, taking part in group sex, but the price is higher than the fleeting pleasure. Someone started blackmailing characters, threatening to publish the naughty pictures, depicting their erotic antics.
But Trish and David know that once paid, they will pay more and more. And decided to deal with blackmailers with unfamiliar way. Not knowing that come on the warpath with the international porno mafiea. War, in which it is almost impossible to win …
Review: When you remove trash continue thrillers or horror films, usually obtained, to say the heresy. "8mm" with Nicolas Cage, exciting and edgy film, flowed into the second part, which is in no way connected with the first, is that erotica is supposed merits. A pale imitation of erotic thriller for some reason is called "8mm 2": apparently, the director decided with little imagination does not steam over the title.
Weird story. The couple is not unbridled, and quite ordinary lovers embody the imagination "threesome." While David and Trish fiercely loyal to each other and dedication during the session trying to prove this fact common frazochkami (all yours – my, my – not yours, e-my …) love slang.
They started blackmailing, sorry, international pornomafiya who is afraid the police. No further need to explain a lot of scenic discrepancies, such as to send a case of just one uncle, when you're the boss of pornography. Maybe I did not look very carefully at crazy bike, but just somehow does not add up to one global danger and children catch-up. If you already decided to swing, pick up the wings of an eagle, not a fly!
Boring, absurd, gray deployed confrontation with blackmailers, and the main characters like walking on a razor's edge, trying never to betray each other (okay too, simultaneous with girl cheating temptress does not count). You know what so afraid that candid video lay out to the Internet, it is better not to start dubious intrigues. Adding the political conversations (David from a wealthy family), slow-witted relatives decelerating police – and here it is, a bad impression of more detective and erotic than it is a thriller.

Screenshots:
Download: