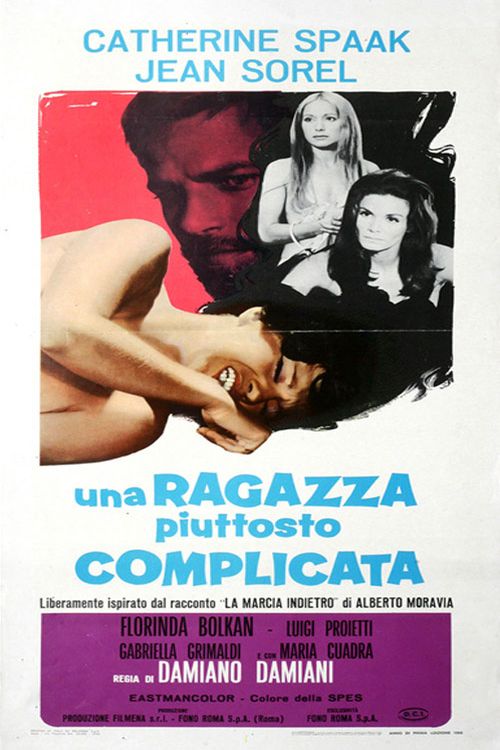 Year: 1969
Duration: 01:39:54
Directed by: Damiano Damiani
Actors: María Luisa Bavastro, Guglielmo Bogliani, Florinda Bolkan
Language: Italian (English and Italian subs)
Country: Italy
Also known as: Una ragazza piuttosto (original title) | A Complicated Girl | Momentos Eróticos
Description: Alberto acidentaly intercepts a call between two troubled women. He becomes intrigued with the situation and goes to meet one of those girls. Claudia, eventually, becomes his lover and the two of them start a quest for sexual fulfillment that becomes more bold at every new step. They decide to envolved third parties in their sexual adventures as a way to transgress all rules and so they come to get involved with Claudia's step-sister.
Not quite a giallo, not quite a sexploitation film, more of a psychological thriller. Damiano Damiani's film is loosely based on Alberto Moravia's La Marchia Dietro. It stars Catherine Spaak, Florinda Bolkan and Jean Sorel. The last two would be reunited in Lucio Fulci's Lizard in a Woman's Skin two years later.
Sorel overhears an erotic phone call between two women and fantasizes about what they might look like. He meets the younger of the two (Spaak), then her stepmother (Bolkan) and becomes involved in their tangled relationship. Spaak, who carries a loaded revolver in her handbag, also has a stalker who spies on her. The couple play games, imagining the perfect crime and filming their love making. But what is a game and what is reality?
Screenshots:
Download:
A Rather Complicated Girl – 1969
A Rather Complicated Girl – English subtitles