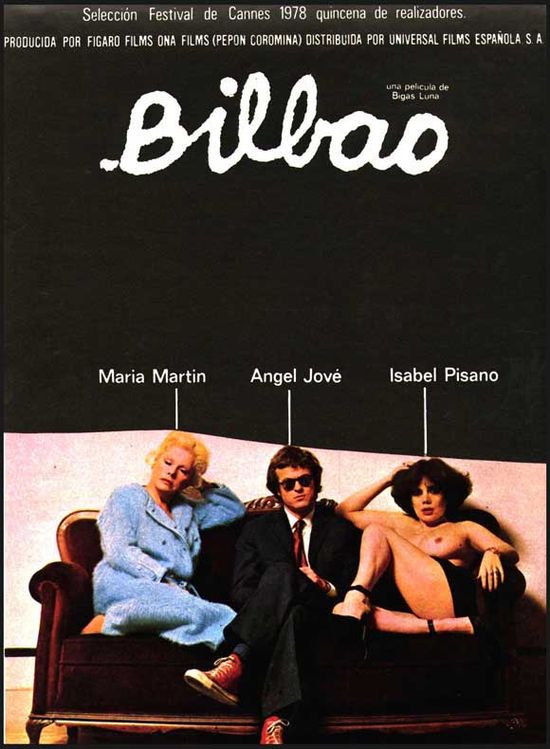 Year: 1978
Duration: 01:33:46
Directed by: Bigas Luna
Actors: Àngel Jové, Maika Thienen, María Martín
Language: Spanish, Catalan
Country: Spain
Also known as: Bilbao – unelma ilman siipiä, La chiamavano,  A História de um Fascínio
Description: Leo lives with Mary – aging actress and mistress, and his uncle, which contains them both. One day walking around the city, he meets with Bilbao, dancer of a Striptease. He is madly falls in love with this girl and eventually seeking reciprocity. But fateful combination of circumstances returns it to the world of Maria.
Review: Erotic psychological drama, made by Bigas Luna(Tit and the Moon and Poodle), with criminal motives, dark story of carnal obsession. Honestly, was surprised to learn that a solid channel, although late at night, going to show the "Bilbao". However, as it turned out, personally baked "soft" version. But then, in my opinion, lost the essence of the picture, which is literally mesmerizing rhythmic simplicity and outrageous outrageous. Rather, it is because everyday, pseudo documentary storytelling manner and there is a sense of darkness that literally oppresses the soul.
So, photographer, advertising man Leo suffers from long aversion to hateful wife, an aging actress Mary. But we have to endure because of financial dependence on it. Moreover, the funds it obtains from Uncle Leo, as his mistress. But money does not keep Leo from the loss of the head, unwittingly provoked by the beauty and charm of a prostitute, stripper, singer frivolous songs Bilbao. He watches her, brings together a collection of photos and favorite fetishes. Leo feeling towards Bilbao can hardly be called love. Rather, the rapid-crazed mind.
The tragic denouement not only logical, as corresponds to the psychological underpinnings of what is happening on the screen, feverishly twisted fotoseansa conducted gained their demonic inspiration Leo.
Screenshots:
Download: