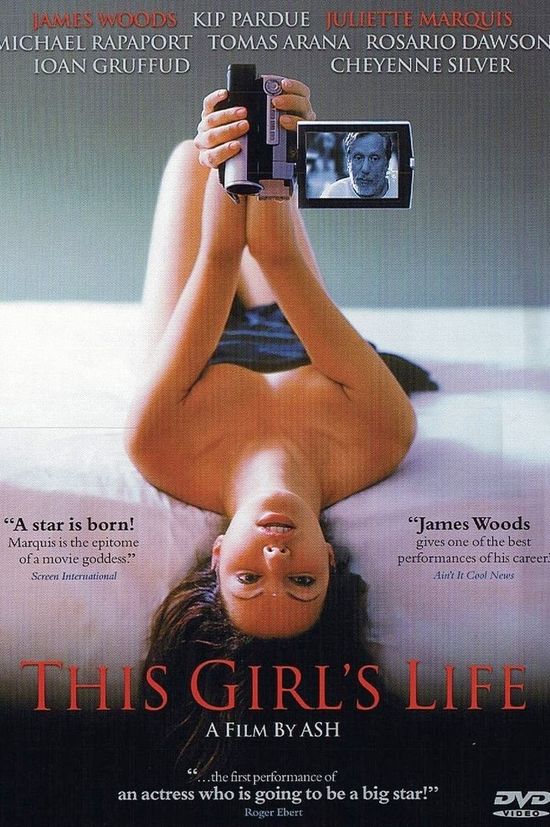 Year: 2003
Duration: 01:44:30
Directed by: Ash Baron-Cohen
Actors: Juliette Marquis, James Woods, Kip Pardue
Language: English
Country: USA
Also known as: A Vida Secreta Desta Mulher, This Girl's Life, This Girl's Life – Mein Leben als Pornostar
Description: Pornstar Luna tries to find a balance between the demands of her work, the need to take care of her ailing father, who suffers from Parkinson's disease, and the ridicule of her friends about how she makes her living …
Review: It happens. Rarely, but it happens. When you start to watch a movie because of an unknown liked commercials or catchy album cover – and then startled look at titles and include it in their "One hundred." I have two examples of this, but two examples. «The Buddy factor» and – see the subject.
Do you love movies about sex? I am here not talking erotica and porn, and talking about the ones where the sex in the spotlight – as a profession, the plot or something. And where sex can be the central, than in a movie about internet porn star?
"Story of a Girl" tells the story of the life of some Moon, which is beautiful not only forms, but the thoughts – and how to tell a friend about it, "all this … glowing from within." Girl raving sex and secret agents, caring for her father with Parkinson's disease and drives a car hanged mother, whom he called "bondomobil." She also acted in porn, broadcast via the Internet worldwide.
Films about sex now nobody will be surprised. Recently, left a lot of frank art-house and the "other" movie where fucking and sucking is not worse than porn. This is such a new form of "socialist realism" with the slogan "See life as it is."
But the problem of these films is that they are sick primitive – the desire to give "life" without the "distortion" in the form of fiction and super idea. Authors forget that the essence of cinema art that expresses, and thus become on a par with the story erotica. Therefore, their movies quickly start to look like a porn and disappointed – because the theme fucked there yet not disclosed to the full: shy.
«This girl's life» in this category does not apply – a film thin, deep and sincere, despite the sex. And he carries its own story, that sex is about twenty minutes is an entourage, and he paid little attention. And the finale with sexy heroine in general want to talk first, and only then – whatever. "You're a girl in my style" – says her friend in the beginning, and the way it is for me personally.
I have never seen the film, shot on the girl's face, so that would then have a drink and talk to the girl, and not to "forget this nonsense as soon as possible." Therefore «This girl's life» is immeasurably more exciting than untwisted "whore" and "9 Songs." Someone Ash, who directed and wrote this movie must have been on a life very interesting person, according to my theory.
"The history of a girl," I would not joke brought to the "Oscar" for the original script. No less worthy of the protagonist and the game – by the way, debuted on screen Juliet Marcus.
«This girl's life» dissects the eternal theme – how to make your life happy or otherwise, "what do you really want to." Moon was lucky – two of her favorite things materialize, because one had to the public's taste, and the second provided the proceeds of the first.
It would seem – A compactly, happy ending, but the girl They reflect. She wants something else, her character is too ambiguous. Losing memory of the father with trembling hands – additional shtrishok to reality. For movies ideological, with the plan, there is always the danger of sliding into extreme ingenuity, but Ash successfully maneuvering between the extremes of passion story. He gave the film ideal antidote: not everything is perfect in the world of Internet – porn stars – is there and drugs, and AIDS, and coercion. But in this world is still a lot of happiness, if you only have a muddy look.
A key plot conflict – turning the "wild heart» Moon with a love disorder and severity in prone to monogamy. One would think: pink saliva and the triumph of morality – but the dog is buried not here.
The film often draw parallels between humans and animals, and it is no coincidence, I think. Happy ending here is not classically Hollywood – and philosophical, in the context of the general orientation film. It's about what growing up is really aging, and «this girl's life» has not changed – it is broken.
Screenshots:
Download: