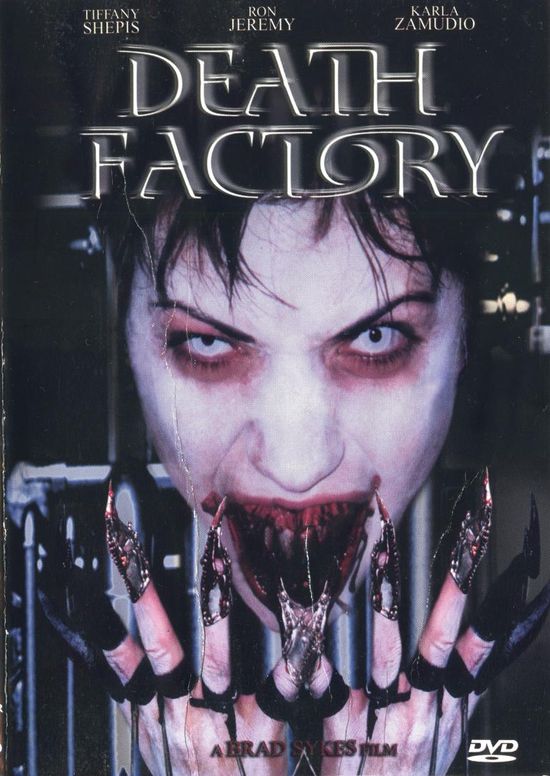 Year: 2002
Duration: 01:25:34
Directed by: Brad Sykes
Actors: Lisa Jay, Karla Zamudio, Jeff Ryan
Language: English
Country: USA
Also known as: Fabrica da Morte, Fabrik des Todes, Fabryka Smierci
Description: Low budget horror flick, lots of blood, some tits and features an appearence by Ron Jeremy.  Overall not too bad an effort for a zero budget number.  Theres a 5 minute behind the scenes thingy after the end credits too, which is cool, defo watch it, the monster (Tiffany Shepis) is really cute.
Review: Death Factory was just awful. There is such a sub-genre of horror – slashers is characterized by the presence of a maniac who destroys a group of teenagers (as a rule and degenerates) encroaching on its territory. Kills usually a lot and one day to night. Like what can be easier with 5 mlns in your pocket, made a cool film in the same genre, or subgenre as you want. But no, you should remove the slag, which look ashamed.
The only thing that the less liked the image of maniac, although having this Arsenal could and effective to deal with the victims run a bit more bright dead. And the impression is that this is not a cold-blooded killer, and a drug addict with experience, which deprived the dose. This all. Actors, dialogues, editing, directing, semi-documentary shooting and so on – are not more than the layout of the globe under the sketch of the patient geographer performed by a drunk carpenter. Everything is so absurd and ridiculous. All gg I would have killed himself, so annoying.
And in General, brad Sykes (Bloody Tease and Evil Sister 2) well done, the movie probably spent thousands of 500, as well as fees into account, and he himself went into the country, where the whore, it only costs a dollar on the road paved with white powder!
Screenshots:
Download: