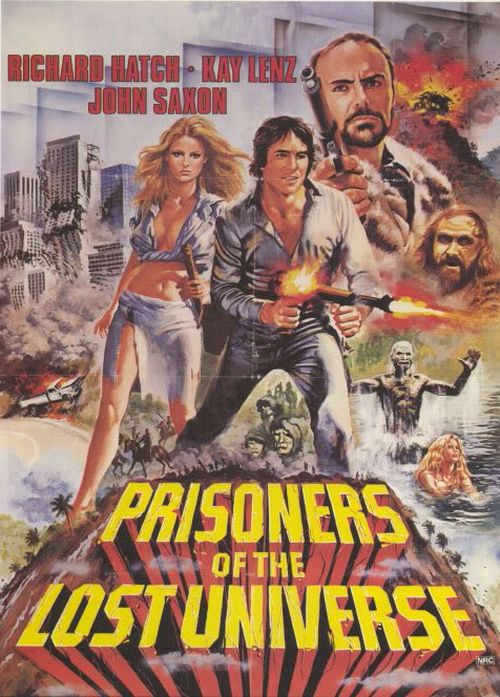 Year: 1983
Duration: 01:34:00
Directed by: Terry Marcel
Actors: Richard Hatch, Kay Lenz and John Saxon
Language: English
Country: UK
Also known as: Apodrasi hilion kindynon, Gefangene des Universums, Gevangenen van het verloren continent, Fången i det okända

Description: "People are people, wherever they exist"  Truer words were never spoken.  That is the kind of brilliant dialog you can expect from Prisoners of the Lost Universe.  Richard Hatch is a joy to watch and John Saxon plays the ultimate poor man's Sean Connery.
For those of you who don't know what this is movie is read the IMDB summary below.
– Through a series of coincidences, Carrie, Dan and Dr. Hartmann all fall through a teleporter device Hartmann has invented. Transported to a what appears to be a prehistoric world in a parallel universe and unable to find the Doctor, Dan and Carrie must figure out a way to get back home. Before they can do that, however, they must deal with tribes of savage cavemen, as well as brutal warlord named Kleel who has taken a liking to Carrie and seems to be unusually well-supplied with Earth technology.
Screenshots:
Download: