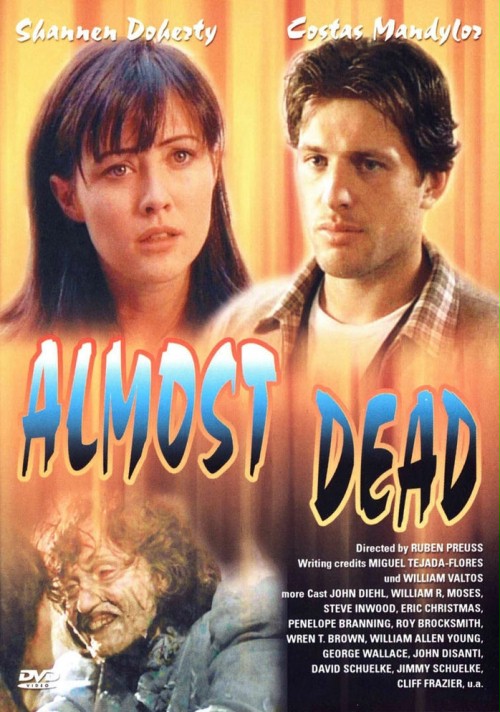 Year: 1994
Duration: 01:26:27
Directed by:  Ruben Preuss
Actors: Shannen Doherty, Costas Mandylor, John Diehl
Language: English
Country: USA
Also known as: Almost Dead – Am Rande des Wahnsinns, Casi muerta, Mort ou presque, Na pograniczu smierci
Description: A psychology professor (Shannen Doherty) believes that she is being haunted by her dead mother in this film that plays like a low-budget made-for-tv flick.
The film is about a young girl who lost her mother a few years ago, and about a young COP who knows his business. It would seem that destiny is never tied them, if not mystical events that occur with the main character lately after the loss of his mother, and not the horror that they both encounter on the way, trying to solve the riddle of the mysterious events happening around them…
Not to say that this film is a masterpiece of its genre! But it is also bad to call a certain way is impossible. The film, during which feel the tension, and even sometimes the real horror!!! And pleased with a pretty unusual and certainly, unexpected ending! The film creates an atmosphere of mysticism and mystery.
It was nice to find such talented person like Shannon, Dorati and of course Kostas Mandylor! Both actors played their roles perfectly, brilliantly showing the nature of their characters.
The film is fully consistent with the style of the 90-ies. Because at that time the fashion for this kind of "Mystical Thriller". If we talk about today, this film few people would have recognized a deserved… But if you're a fan of the cult movies of the last century, this film is sure will suit you perfectly!
Screenshots
Download