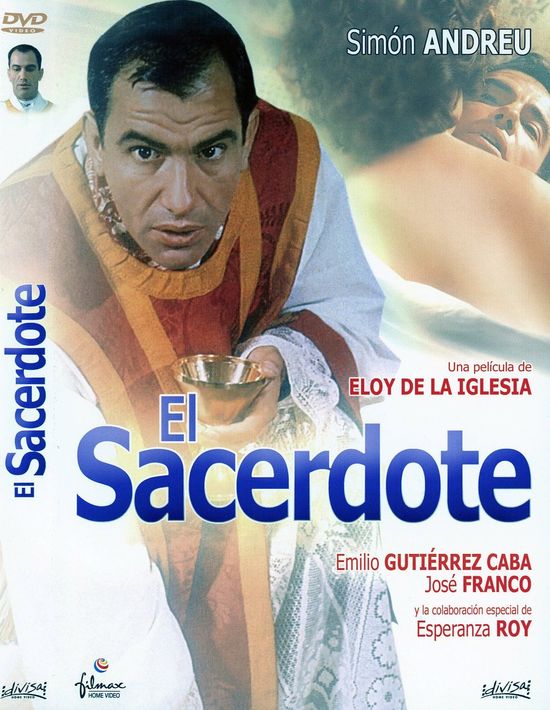 Year: 1978
Duration: 01:36:18
Directed by: Eloy de la Iglesia
Actors: Simón Andreu, Emilio Gutiérrez Caba, José Franco
Language: Spanish
Country: Spain
Also known as: The Priest
Description of El sacerdote movie: Father Miguel is a handsome 36 year-old priest with a lot of doubts about his sexual life.
Left-wing homosexual director Eloy de la Iglesia tackles a scorching hot topic in post-Franco Catholic Spain: the clash between the Soul and the Flesh.
Reminded me of Agostino d'Ippona's famous motto: "Make me chast, God, but not now!"
Review: It would seem that such presuppositions picture of de la Iglesia is easy to write in a long list of anticlerical movies that Spanish directors after the fall of the Franco regime replenished quite readily, but it is not so . «El Sacerdote» not castigates the vices of the Catholic Church , does not expose the shady dealings and affairs of priests and certainly not opposed to religion. Quite the contrary , the film shows the world the clergy with great warmth and tact , and the Church stands here as a vital foundation : it is similar to the parental home , caring family, responsive caregiver … There was only one "but" – sooner or later, people tend to go away from home to create their own own family , to become mentors themselves . And those who remain after they leave voluntarily or involuntarily change. The Church did not want to ever change , rightly or wrongly – is another question . Except that sometimes these her clumsiness and conservatism beaten on living people , one of which was the hero of the film Padre Miguel , well played by Simon Andreu .
Since childhood, he dreamed of becoming a priest at age fourteen he entered the seminary and has since stuck right data once vows . Seeing life purpose in helping others, and wanting nothing for himself, Father Miguel was the perfect example of a priest as long as it is not caught a midlife crisis . But if for the average person , this crisis is usually manifested in the spiritual realm , then holy celibate cleric was holding it became a terrible bodily torment.
It's no secret that among Catholic priests (and Orthodox too, although to a much lesser extent) are quite widespread pedophilia and pederasty (at least , is much broader than that of ordinary people ) . This is stated and written quite a lot, even too much and misrepresentation . But all this talk does not occur in a vacuum. Not every person are the strength to resist the temptation of the devil , you have to fight with his father , Miguel . When in place of the Virgin Mary seen shamelessly thrusting legs harlot boys who came to the first communion , it seems , just waiting to be stroked curvy thighs rough men's fingers , and his brother – cleric ready to captivate the confessional comely young man , it's hard to stay cool . All these paintings are carried in the fevered brain of his father , Miguel , and he tries in vain to calm his flesh self-flagellation and fetters – they also become a tool of sensuality .
The protagonist is desperately trying to keep the mind , but the older comrades tips do not help , and peers , such as the father of Louis , quietly referring to carnal sin, do not see anything except the situation Miguel whim . What is there to talk – go into the first brothel and easy! Or answer the feelings of one of the parishioners , a long time ( and nebezotvetno ) in love with a priest. But what is easy for the father of Louis , who in God do not believe , but believe in the people and just as sincerely as Miguel tries to help them , it is unacceptable for the hero of the film. He understands that ridiculous with their principles , but can not withdraw from them is one of stubbornness …
Generally , a "priest" no negative character . Cute everything – and Padre Miguel with his desperate quixotic , and Father Louis with easy but honest attitude towards life and the old , wise Father Alfonso chtyaschy old traditions , but do not prevent young to get their way , and grass widow Irene , in love Miguel , but do not make any steps to seduce him … And many more good people. And one very bad rule of celibacy , disfiguring a good man spiritually and physically.
At the end of the film, exhausted and broken curses Miguel Christ , accusing him of fraud . Not realizing that his troubles he is guilty of the least. Not he forced the priest to conduct senseless struggle and its own pride. And false witnesses ideals. And the church … Maybe it's time to release it its place in the hearts of something else. While in the world there are people like Father Louis and Father Alfonso for these souls , at least , can not be afraid .
Screenshots:
Download: