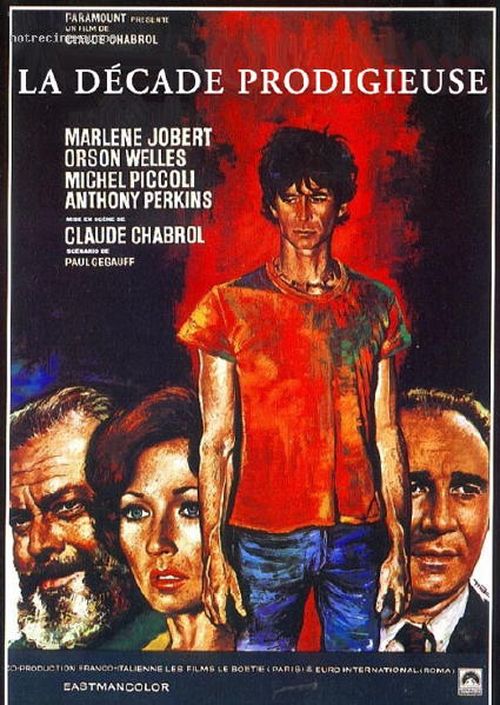 Year:  1971
Duration:  1:44:25
Directed by:  Claude Chabrol
Actors:  Anthony Perkins, Michel Piccoli, Marlène Jobert
Language:  English
Country:  France | Italy
Also known as:  La décade prodigieuse, Der zehnte Tag, 10 Dias Fantásticos

Description: With Charles, the adopted son of a powerful rich man Theo van Horne, strange is going on: a few times he woke up in terror, with bloody hands, and could not remember what had happened the night before. And, to top it all, a man who has learned about the novel by Charles with his young stepmother, Ellen begins to blackmail lovers…
The Chabrol called this work "the broken movie". Director since the mid 1960s has been announced several times about his new project, saying that the main role will play Orson Welles, Tom Courtney and Catherine Deneuve. Welles was to play the role of Theo van horn, but kept turning it down for various reasons. In the end, the script corrects, the cast has changed… But when Chabrol finally asked, why doesn't he just hire another actor for the role of Theo, he replied: "Only Orson Welles could play God." Ultimately, the Director admitted that he simply missed the project was "too ambitious".
I liked the movie. Very! Along with the main character, whose role takes the Perkins, we unwittingly drawn into the mysteries of a rich family, where all together are playing cat and mouse. Soon it becomes clear that the master of the house — Theo van horn, the embodiment of God the Father in an isolated house.
Manners and vices, actions, and intentions, the web of words, the inevitability of punishment. In all this it is easy to get confused, mistaking the false for the truth and Vice versa. For my taste, Chabrol was able not only to cope with the story, coloring it next directorial finds, but much loved by the Hitchcock suspense.
This story is not trivial, not at all! On the contrary, she's really ambitious, but in the best sense of the word. Without modern visual effects the Week I managed to create an epic picture on the evils of the modern world, which, actually, has not changed since the emergence of mankind.
Screenshots
Download