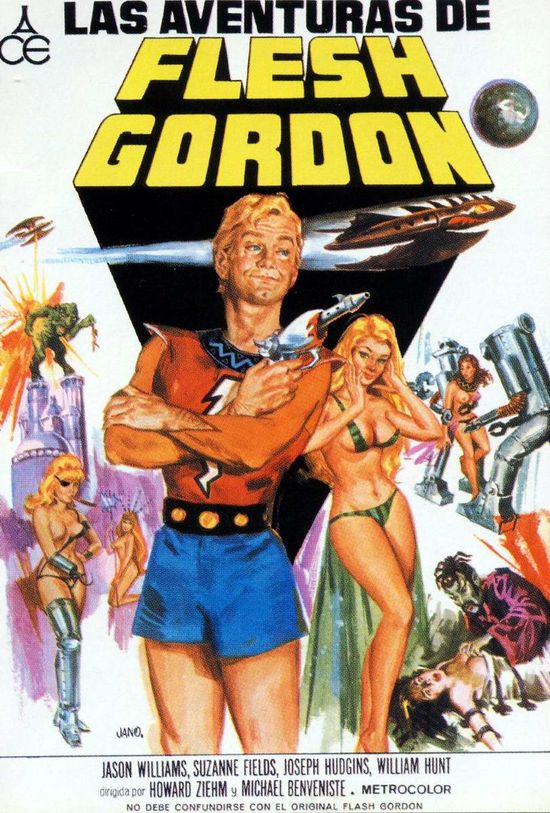 Year: 1974
Duration: 01:25:49
Directed by: Michael Benveniste, Howard Ziehm
Actors: Jason Williams, Suzanne Fields, Joseph Hudgins
Language: |English|Italian
Country: USA
Also known as: Flesh Gordon, praktor '069' enantion tou planiti 'Porno'!
Description: Earth in the near future under attack of unknown sexual rays from outer space. Flash Gordon with his girlfriend (Suzanne Fields who also filmed in History of Pornography), and Dr. Flax Dzherkoffom a journey to the planet Porno to save Earth from the machinations of evil and horny Emperor Wang.
Planet Earth is in Danger! Secret Sex-waves from planet Porno are about to destroy earth! Flesh Gorden tries, along with his staggering friend Dale Ardor and clever Dr. Flexi Jerkoff to stop this cosmic penetration. Flesh must put an end to  the evil plans of ruler Wang and he can only hope that he survives all sexual tortures!
The guys who directed this were actually doing pretty well in the porn movie business. They had directed the film Mona The Virgin Nymph, which is recognized as the first porn feature made for theater. When they made this they had planned on just making another porn spoof, this one of Flash Gordon. However, they ended up pouring a bunch of money into it, and making it a big budget special effects driven porn themed comedy. From director of Star Virgin
Review:  Some of the guys who worked on this would later receive awards for their work on Star Wars. The acting is great, the story is great, the stop-motion animation is great. The acting is really the thing that sets this apart from other attempts at blending porn with big budget film-making. This would eventually lead to a sequel titled Flesh Gordon Meets the Cosmic Cheerleaders. While the sequel was great and filled with wacky creatures, costumes, and stop-motion animation, it unfortunately lacked the original stars. William Dennis Hunt was the only original star to show up in the sequel.
In an interview with Howard Ziehm, he actually tells the story about how the police arrested him, and made him remove all the graphic sex scenes from the film, while they sat and watched him do it. By this point, however, that was exactly what he planned on doing anyway! The porno business was an iffy business at the time, and police raids were certainly not unheard of.
On IMDb, you will find mixed reviews of this film, some love it, some hate it. But I have seen so many porn themed comedies, trust me, this is worth seeing. It's totally hilarious, and brilliant. We wouldn't see anything close to it until the sequel was made, and years later Trey Parker and Matt Stone made Orgazmo. Good stuff.
Screenshots:
Download: